DMV Practice Tests for Your Texas Driver's License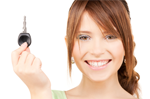 Tests are similar to real DMV exam
Become familiar with safe driving techniques
You can start as soon as you enroll
Course Summary
You don't want to wait to become a licensed driver, do you? When you enroll in our Texas DMV practice test, you're guaranteed to pass the written portion of the DMV exam on your first try! This is the best program you could possibly purchase. Let us help you get out on the open road!
details
Sign Up Now - Instant Access
Are you ready to be educated?
Enrolling in a course has never been this easy! As soon you register, you'll be asked 20 different road rules and road sign questions. To better assist you, these questions will be very close to the ones asked on the real DMV exam. Therefore, it's as if you'll have the answers to the test before you take it!
A detailed explanation will be provided with each question
You'll breeze right through this program
Prepare according to your own schedule
But wait, there's even more offered with this great opportunity! Our Texas DMV practice test is completely guaranteed. After you've successfully completed our road rules and road signs tests at least five times each, we have no reservations that you'll pass the written portion of the DMV exam on your first try. If you don't, we'll give you a full refund. It's as simple as that!
The most convenient way to become a licensed driver!
Our prep course will thoroughly squash any doubts you've ever had about becoming a licensed driver. You won't be nervous when you walk into the DMV. In fact, you'll be excited to take your exam, as you'll already know that you're going to pass!
Our program can be accessed all hours of the day
You'll quickly learn facts needed to pass the exam
Unlimited amount of chances to practice
If you've made the decision to participate in our course, you'll want to first be familiar with the Texas Driver's Manual. Test your knowledge on this document with our FREE DMV practice test.
Gain independence behind the wheel!
In order to obtain a permit in the State of Texas, a driver must be 15 years old and complete the classroom portion of driver's training. While driving, drivers with permits will have to be with someone who is at least 21 years old. This permit will have to be held for six months. Once a driver turns 16, he or she can earn a restricted driver's license. After a driver has celebrated their 17th birthday, he or she can apply for a full license.
Do you want to test your driving knowledge and see where you currently stand? Don't trail behind. Let us educate you on important skills and techniques that will allow you to instantly become an accomplished driver.