CDL - Class C Drivers License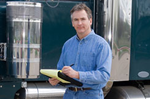 CDL Endorsements for Class C Licenses
Questions Designed for You to Pass
100% Online License Preparation Exams
Required Endorsements for Class C Driver's License
Everyone that seeks to obtain a Class C CDL license is required to complete certain steps before they can actually get on the road. First, you will need to take a General Knowledge exam, yes this is required for any CDL license type. You will also then be required to prepare and pass the hazardous materials exam in most states. A Class C CDL license normally allows you to operate heavier vehicles that carry between 16,000 and 25,999 pounds of material. You will then have to take an actual road test in which the driver will take the actual driving test in the vehicle that falls into the weight class for the vehicle they will be driving.
For a CDL Class C drivers license, most states require you pass the following exams:
Other State Required CDL Exams
They exams may seem daunting, but when you use our CDL endorsement prep courses you will pass, guaranteed. We have a proven system that has helped people throughout the nation successfully obtain their class C license.
Be sure you are preparing and studying for the license type which you are attempting to be licensed. Federal standards mandate that the state in which you reside and will get your commercial drivers license do so according to license classifications. You may visit the Federal Motor Carrier Safety Administration for more details, but see below for general guidelines:
Class A License - Any combination of vehicles with a GVWR of 26,001 or more pounds provided the GVWR of the vehicle(s) being towed is in excess of 10,000 pounds.
Class B License - Any single vehicle with a GVWR of 26,001 or more pounds, or any such vehicle towing a vehicle not in excess of 10,000 pounds GVWR.
Class C License - Any single vehicle, or combination of vehicles, that does not meet the definition of Class A or Class B, but is either designed to transport 16 or more passengers, including the driver, or is placarded for hazardous materials.
Test Questions and Answers CDL prep courses consist of over 3000 questions similar to those found on the DMV CDL test. Try a FREE test drive right now with these 5 sample questions, then Sign Up for the full CDL General Knowledge online course for only $29.95!
General Knowledge Test - $29.95