CDL Hazardous Materials Test Prep Course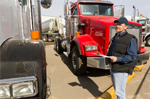 Know the answers before you take the CDL exam
Unlimited CDL practice tests
Money-back guarantee you'll pass the 1st time
details
Sign Up Now - Instant Access
CDL Hazmat Test Prep Course
This course provides study material for the CDL Hazardous Materials test. Everything you need to know to pass the written HAZMAT test is covered in this course. However, this is only a beginning. Most drivers need to know much more on the job. Once you pass the Hazardous Materials test, we encourage you to learn more by reading the federal and state rules applicable to hazardous materials..
Here is how the practice test works:
Our CDL Test Question and Answers Course is made up of over 3,000 questions similar to those found on the DMV Commercial Drivers License test.
Once you log in, you can view hundreds to test questions and answers, along with DETAILED EXPLANATIONS. When you pass our final exam, you'll know when you're ready to take the CDL exam or for any CDL endorsement at your local DMV Office.
Know the Answers BEFORE you take the CDL Exam!
Easily learn the answers to the CDL test questions, plus get detailed explanations.
Unlimited CDL practice exams & includes our Money-Back Guarantee!
This is the smart way to get your Hazardous Materials endorsement!
Before you can drive any size vehicle that is used in the transportation of any material that requires hazardous material placarding or any quantity of a material listed as a select agent or toxin in 42 CFR 93, you must pass the Hazardous Materials test to obtain the endorsement on your CDL.
This CDL Hazardous Material Test course provides access to CDL HAZMAT test questions and answers, along with detailed explanations covering:
The Intent of the Regulations
Bulk Tank Loading, Unloading, and Marking
Driver Responsibilities
Driving and Parking Rules
Communications Rules
Emergencies
Loading and Unloading
You will receive the best preparation available to pass your CDL or endorsement test when you complete our easy to use, easy to learn online prep course. It utilizes proven teaching methods developed for training our military service members.
Fun, easy and interactive course. Log-in anytime!
You'll get to see over 3,000 CDL test questions and answers, along with detailed explanations.
Course is approved by the National Safety Commission
When you have successfully taken and passed the test at least five times you're GUARANTEED to pass the official test at your local DMV office.
All applicants need to be familiar with CDL Driver's Manual. Think you know the material?
Take our FREE CDL Hazmat practice test now and test your driving knowledge.
Try Sample Test!
Commerical Driver's License Resources
Course Reviews
"Just a note to compliment you on the Hazmat course that I recently used to prepare for my renewal test. It was awesome...I got a 100 this time." - R. Querreveld (New York)
"I paid $15 for the Hazmat Endorsement test and it was worth every penny. I studied for two days, showed up to the DMV, was over prepared and passed the test with no problems. I will DEFINITELY be using this site again for future endorsements. Thanks Again!" - J. Grasso (Florida)