CDL General Knowledge Prep Course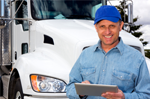 Know the answers before you take the CDL exam
Unlimited CDL practice tests
Money-back guarantee you'll pass the 1st time
details
Sign Up Now - Instant Access
Here is how the practice test works:
Our CDL Test Question and Answers Course is made up of over 3,000 questions similar to those found on the DMV Commercial Drivers License test. Once you log in, you can view hundreds to test questions and answers, along with DETAILED EXPLANATIONS. When you pass our final exam, you'll know when you're ready to take the CDL exam or for any CDL endorsement at your local DMV Office.
Know the Answers BEFORE you take the CDL Exam!
Easily learn the answers to the CDL test questions, plus get detailed explanations.
Unlimited CDL practice exams & includes our Money-Back Guarantee!
This is the smart way to get your Commerical Driver's License!
This CDL practice test course contains knowledge and safe driving information that all commercial drivers must know in order to get a CDL. You'll get access to CDL General Knowledge test questions and answers, along with detailed explanations covering:
Vehicle Inspection
Basic Control of Your Vehicle
Shifting Gears
Space Management
Controlling Your Speed
Seeing Hazards - Distracted Driving, Aggressive Drivers / Road Rage
Driving at Night, Fog, Winder or Hot Weather
Railroad-highway Crossings
Mountain Driving
Anti-lock Braking Systems - Skid Control Recovery
Accident Procedures, Fires, Alcohol, Other Drugs
You will receive the best preparation available to pass your CDL or endorsement test when you complete our easy to use, easy to learn online prep course. It utilizes proven teaching methods developed for training our military service members.
Fun, easy and interactive course. Log-in anytime!
You'll get to see over 3000 CDL test questions and answers, along with detailed explanations.
Course is approved by the National Safety Commission
When you have successfully taken and passed the test at least five times you're GUARANTEED to pass the official test at your local DMV office.
All applicants need to be familiar with CDL Driver's Manual. Think you know the material?
Take our FREE Air Brakes practice test now and test your driving knowledge.
Try Sample Test!
Commerical Driver's License Resources
Course Reviews
"I did go take my general knowledge test on Saturday and passed, so thanks so much, without this site, I probably would have failed, have heard about so many that fail the first time." - P. Taylor (Louisiana)
"I want to thank you very, very much. I passed the CDL General Knowledge, Passenger and Air Brakes tests all in one session at the DMV. Your programs more than prepared me to have confidence and score in the 90th percentile in all 3 exams. Thank you!" - M. Carufel