CDL Endorsement for your Commercial Drivers License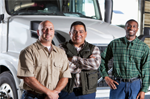 CDL Endorsement by Vehicle Type
How to Prepare for your CDL Exam
License Classifications and Requirements
CDL Endorsement Skills Tests
Find out the exact CDL Endorsement you'll need for driving all types of commercial vehicles including tracker trailer, straight trucks, dump trucks, cement trucks and others.
Try Sample Test!
All applicants need to be familiar with their states CDL drivers manual and regulations. Think you know the material? Take our CDL practice test now and test your driving knowledge.
Types of CDL Endorsements
Many applicants for a Commercial Driver's License (CDL) are often confused by federal and state requirements to apply for a CDL. When a person gets any CDL, they take the General Knowledge Test and the tests for any endorsement(s) they want or need for the Class A, B or C license. Depending on the vehicle you will be driving the following CDL Endorsement may be required with one or more skills tests.
Endorsements Include:
CDL Practice Tests
In addition, here are the basic requirements:
Residency in the state in which you will be licensed
Being at least 18 years of age to drive within your own state and at least 21 years of age to drive out-of-state
A medical exam, vision screening, and drug test
Proof of your social security number
No active driver's license suspensions or revocations in any state
Passing all applicable background screens
Surrendering your state driver license once you earn a CDL
The federal standard requires states to issue a CDL to drivers according to license classifications. Here are the Class designations from the Federal Motor Carrier Safety Administration:
Class A License - Any combination of vehicles with a GVWR of 26,001 or more pounds provided the GVWR of the vehicle(s) being towed is in excess of 10,000 pounds.
Class B License - Any single vehicle with a GVWR of 26,001 or more pounds, or any such vehicle towing a vehicle not in excess of 10,000 pounds GVWR.
Class C License - Any single vehicle, or combination of vehicles, that does not meet the definition of Class A or Class B, but is either designed to transport 16 or more passengers, including the driver, or is placarded for hazardous materials.
Prepare for your CDL Tests
Don't spend hours studying the CDL handbook - take our easy and comprehensive ONLINE practice tests from our database of over 3000 CDL Test Questions. Sign up now for our online CDL practice test course. You'll pass the CDL Knowledge Tests the FIRST time... or we'll refund your money!
General Knowledge Test - $29.95
Once you log in, you can view hundreds to test questions and answers, along with DETAILED EXPLANATIONS. When you pass our final exam, you'll know when you're ready to take the CDL exam or for any CDL endorsement at your local DMV Office.