Texas Learners Permit Practice Test and Prep Course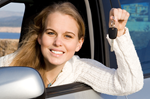 Familiarize yourself with key topics
Take the test with confidence
Study from anywhere you have Internet access
Course Summary -
Earn Your Texas Learners Permit
Texas is a big state. If you want to get around, you're going to need your driving privileges. Thankfully, we have the resources you need to pass the state's official exam. Our Texas learners permit practice test allows you to essentially take the test before ever setting foot in the motor vehicle office. When test day comes, go in with an unfair advantage! Enroll for this resource today and start reaping the benefits.
details
Sign Up Now - Instant Access
How Our Guide Works
Studying for your permit exam using our Texas learners permit practice test couldn't be easier. Simply:
Complete the Online Enrollment - once you complete the registration process, you'll be able to access the course materials immediately; there are no downloads or print outs
Take our Permit Practice Test - our practice test is modeled after the official state exam, allowing you to familiarize yourself with the test's format and questions
Retake our Test an Unlimited Amount - as the old saying goes, practice makes perfect; we have thousands of sample questions in our database to study with
When you have successfully taken and passed each test - both the road rules and road signs - at least five times, we guarantee you'll pass your driver's test the FIRST time at your local DMV driver's license office or we will provide you with a full refund for the cost of the course!
The Benefits of Our Practice Tests
We had your needs in mind, and the needs of individuals just like you, when we created our Texas learners permit practice test. We are confident that you will find it offers a number of benefits. In fact, some of these benefits include:
Available entirely online
Accessible on smartphones, tablets, laptops, and desktop
Modeled after the official exam for familiarity
Informative and comprehensive
Effective resource
If you are still uncertain about our online practice test, don't be. We offer a 100% money-back guarantee for your peace of mind.
How to Earn Your TX Driving Privileges
As with other states, Texas has a graduated driver license (GDL) program. This program has been instituted to help ensure that young drivers have the experience - practical and theoretical- that they need to be safe and responsible drivers. As part of the GDL program, minors must first earn a learner license. To apply for a Texas learner license, applicants must:
Be 15-18 years of age
Provide proof of parental or guardian consent
Provide proof of school enrollment or attendance
Provide proof of driver education class completion