North Dakota Learners Permit Practice Test and Prep Course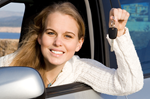 Covers the same topics as the permit exam
Includes the same questions as the permit exam
Presented in the same format as the permit exam
Course Summary -
Earn Your North Dakota Learners Permit
We can help if you are currently in the process of earning your North Dakota learners permit. With our online resources by your side, you can pass the written exam with ease! Don't waste your time going through page after page of the driver handbook; instead, take advantage of our North Dakota learners permit practice test! With this resource, we guarantee you'll be ready.
details
Sign Up Now - Instant Access
How Our Guide Works
Using our practice test is easy. In fact, it's as easy as 1, 2, 3!
Enroll online and sign in to your account
Take our North Dakota learners permit practice test
See which questions you answered incorrectly and retake the test
With these three simple steps, you can familiarize yourself with the essentials. Don't risk failing your permit test - take advantage of this resource and ensure your success!
The Benefits of Our Practice Tests
We understand that you want a resource that presents information clearly, makes it easy to study, and is built around your needs. Our North Dakota learners permit practice test is all of those things. Working with industry experts, we have developed this resource with the needs of individuals just like you in mind, and it provides a number of benefits:
Convenient - study from anywhere, thanks to our mobile-friendly test layout
User-friendly - our test is formatted in a simple and intuitive manner so that studying is made easy
Effective - covering only the essentials and modeled after the official exam, our practice test is a tremendous resource
If you still have doubts as to the effectiveness of this resource, don't. We are so confident in our North Dakota learners permit practice test that we offer it with a 100 percent money-back guarantee!
How to Earn Your ND Learners Permit
You can apply for a restricted license (or permit) in the State of North Dakota at the age of 15. In order to apply for your permit, you must provide the following:
Proof of parental consent
Proof of identification
Social security number
Once these requirements are met, you can take the written permit test. In the State of North Dakota, no appointment is necessary for the written test. Minors must be at least 16 years of age to apply for a license.