Texas Motorcycle Practice Test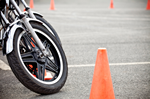 Comprehensive resource
Intuitive layout
Modeled after the official exam
details
Sign Up Now - Instant Access
Course Summary - Earn Your Motorcycle License
Hundreds of test questions
Covers core concepts
User-friendly interface
Convenient online resource
Money-back guarantee provided
Access Time: 30-Days
Course Details
Are you currently in the process of studying for your written motorcycle exam? If so, we can help at Test Questions and Answers. Working alongside industry experts, we have developed our Texas motorcycle practice test to be convenient, practical, and effective. To take advantage of this resource, complete the following three-step process:
Complete the online registration process
Take our practice test consisting of 20 random questions
Review your results and retake the test for further practice
With hundreds of sample test questions in our database, no two practice tests are the same. In fact, you might not see the same question twice. With each additional retake, you'll be more familiar with the concepts and questions that will be covered on the actual exam. It's a simple yet incredibly effective means of preparing for the written test.
Benefits
Unlike the state's official driver handbook, which exhaustively details a wide range of different issues over dozens of pages, our Texas motorcycle practice test contains only the information that you need to familiarize yourself with the official exam. This stripped-down approach makes our practice test an incredibly effective resource, as it makes learning and retaining new information quick and easy. We are confident you'll appreciate our approach!
With sample test questions covering the very topics and concepts included in the official written exam, our Texas motorcycle practice test offers a number of clear benefits:
Will familiarize you with key concepts
Will familiarize you with the test format
With familiarize you with the types of questions you can expect
Guarantees your success or your money back
By studying for your official written exam using our Texas motorcycle practice test, you can prepare yourself for every eventuality. When test day arrives, don't risk failing like 50 percent of first-time applicants do; study using our practice test and ensure your success!
Texas Motorcycle License Endorsement
Under Texas DMV guidelines, anyone who drives a motorcycle must have a Class M motorcycle license or motorcycle instruction permit. In addition to testing, all first time original applicants must visit a Texas Driver License office and do the following:
All Applicants:
Complete the requirements for an original applicant.
Present a completion certificate of the Motorcycle Safety Course (MSB-8 or MSB-8R), approved by the Motorcycle Safety Foundation. This completion certificate waives the driving test if you 18 years of age or older
Learner License
A motorcycle learner license allows a beginning driver to operate a motorcycle with someone in sight that is 21 years of age or older and holds a valid motorcycle license.
To obtain a motorcycle learner license (permit), you must:
1. Complete the requirements for a learner license.
2. Present a completion certificate of the Motorcycle Safety Course (MSB-8), approved by the Motorcycle Safety Foundation.
Under Age 18:
Be a minimum of 15 years of age (restricted to only operate a motorcycle that has not more than a 250 cubic centimeter piston displacement). On the 16th birthday of a special restricted Class M license, the department shall remove the 250 cubic centimeter restriction from the license without completion by the holder of an additional motorcycle operator training course.
Complete the requirements for a learner license.
Present the completion certificate of Driver Education.
Submit Verification of Attendance and Enrollment in school
Obtain parental authorization signature
Pass the mandatory motorcycle driving test. NOTE: For customer convenience, some locations are pre-scheduling the driving exam. Contact your local Driver License office to see if appointments are offered.
All applicants need to be familiar with the Texas Motorcycle Driver's Manual. Think you know the material?
Take our FREE motorcycle practice test now and test your driving knowledge.
Try Sample Test!
Texas Motorcycle Resources