How to get a Massachusetts Learners Permit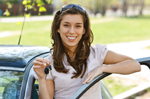 Massachusetts Learner's Permit Guidelines
How to Prepare for the Written Exam
Required ID and Paperwork
MA Learners Permit Rules and Requirements
Find out the steps to get your MA driving permit, pass your DMV written test and the required paperwork to bring to the DMV office to get your driver's license.
Try Sample Test!
All applicants need to be familiar with the Massachusetts Driver's Manual. Think you know the material? Take our DMV practice test now and test your driving knowledge.
First Time Drivers
Under Massachusetts drivers license guidelines, you must be 16 years old to apply for a learners permit. The holding period for the permit is 6 months. Parental consent is required for learner's permit applicants under 18.
Prepare for the Knowledge Exam
If this is your first driver's license, you will need to apply for a Massachusetts learner's permit which requires a written exam on traffic signs, motor vehicle laws and safe driving techniques. Each learner's permit knowledge exam has 25 multiple-choice questions. To pass the exam, you must answer 18 questions correctly within the allotted time of 25 minutes.
All new drivers are encouraged to study for this driver education exam so you don't miss the opportunity to get your learners permit as soon as you reach the approved age. Online practice tests are available that provide real sample questions from the DMV Exam - Take the Massachusetts practice permit test now and test your driving knowledge.
Required Paperwork for your Learners Permit
Before you head to the Massachusetts RMV Office, make sure you have all of the following required documents to get your learners permit:
SSN Card or valid, current U.S. or Non-U.S. Passport
1 Primary document proving date of birth
Parent/Guardian's consent (signature) is required on the application.
On the Road
During the permit phase, the licensee must complete 40 hours of supervised driving in order to receive the Junior Operator's License
The minimum age for a junior operator's license is 16 years and 6 months old. The nighttime restriction during this phase is not being allowed to drive between the hours of 12:30 AM to 5 AM. For the first 6 months, the licensee is not allowed to have unrelated passengers under the age of 18 in the vehicle. Passenger restrictions are lifted once the licensee reaches the age of 17 years old. The nighttime driving restrictions are lifted at the age of 18.
Massachusetts Drivers Permit Resources