How to get a Connecticut Learner's Permit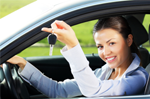 Connecticut Learner's Permit Guidelines
How to Prepare for the Written Exam
Required ID and Paperwork
CT Learners Permit Rules and Requirements
Find out the steps to get your CT driving permit, pass your DMV written test and the required paperwork to bring to the DMV office to get your driver's license
Try Sample Test!
All applicants need to be familiar with the Connecticut Driver's Manual. Think you know the material? Take our DMV practice test now and test your driving knowledge.
First Time Drivers
Under Connecticut DMV guidelines, you must wait until your 16th birthday before you can apply for a Connecticut Learners Permit.
All applicants are required pass a vision and a written test in order to obtain the permit. You then must hold it for at least 120 or 180 days before applying for a full license. You must receive at least 30 hours classroom and 8 hours behind-the-wheel practice driving with a Connecticut licensed commercial/secondary driving school to be eligible to take the test after holding the permit for only 120 days.
Prepare for the Written Knowledge Test
The Connecticut DMV requires that all applicants must pass a written exam on traffic signs, motor vehicle laws and safe driving techniques. The Connecticut DMV Permit Exam consists of one written test and you must score 80% or higher to pass. The test is based on the latest edition of the Connecticut Driver's Manual for New Drivers and consists of 25 questions. If you fail the knowledge test, you must wait at least 14 days to be retested and pay an additional fee.
All new drivers are encouraged to study for this driver education exam so you don't miss the opportunity to get your learners permit as soon as you reach the approved age. Online practice tests are available that provide real sample questions from the DMV Exam - Take the Connecticut practice permit test now and test your driving knowledge.
Required Paperwork for your Instruction Permit
Before you head to the Connecticut DMV Office, make sure you have all of the following required documents to get your learners permit:
Proof 2 forms of identification
Social Security Number
Proof of Residence
If a parent or legal guardian cannot come to DMV with the applicant, a parent or legal guardian must complete a notarized consent form (Form 2-D). Legal guardians must show certificate of legal guardianship.
Pay a testing fee
On the Road
When you first receive your Connecticut learners permit, you are allowed to practice with a licensed driver who is at least 20 years old and has held a license for a minimum of four consecutive years.
Connecticut Driving Permit Resources