Connecticut Learners Permit Practice Test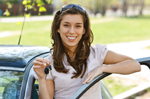 Connecticut Learners Permit prep materials
Available entirely online
Study for the Written Exam
Course Summary
This course allows you to pass your test with confidence. So avoid the 50 percent failure rate, as well as learn road rules and road signs - we can guarantee that you will be satisfied with the results!
details
Sign Up Now - Instant Access
This comprehensive Connecticut learner permit course is ideal if you are looking to discover the steps to gain your CT driving permit, and also allows you to pass your DMV written test.
How the permit practice test works:
When you log in, you will be given a test consisting of 20 random road rules and road sign question selected from our database. You have the tremendous ability to take the test as many times as you like, because the test questions change each time you log in. Correct answers are provided at the end of each question, including detailed explanations.
The smart way to pass your driver's license exam!
When you enroll in our comprehensive course, you ultimately will help your teen become a safer driver. Our Connecticut learners permit practice test is a tremendous resource that we are confident will satisfy all of your needs.
Course Benefits for First Time Driver
You will receive the best preparation available to pass your driving permit test when you complete the course.
Fun and interactive coursework makes studying fun
Learn the Rules of the Road and Road Signs
Course Benefits for Parents
Developed with the help of industry experts, you can be assured that your son or daughter is taking advantage of an effective and helpful resource.
If your son or daughter has successfully taken and passed the test at least five times, we guarantee that your teen will pass the course.
Approved by the National Safety Commission.
Take the Connecticut practice permit test now and test your driving knowledge.
Try Sample Test!
Connecticut DMV Graduated Driver License Laws
Stage One - Learners Permit: A new driver must be at least 16 years old to apply for an instruction permit. A licensee between the ages of 14-16 may also apply for an instruction permit if they have undergone driver education classes, which consists of a classroom portion and a behind-the-wheel test. The licensee must hold the permit for a minimum of 12 months. During this period, the licensee must complete 50 hours of supervised driving - 10 of which should be at nighttime. If a licensee is under 18, they may not drive with anyone except their driving instructor, parent or legal guardian.
Stage Two - Restrictured License: The minimum age for getting a restricted license is 16. The nighttime driving restriction applies for the hours between midnight and 5 AM. For the first 6 months, the licensee is not allowed to drive with passengers under the age of 21 years or older, with the exception of siblings.
Stage Three - Full Privilege License: When the licensee turns 18, restrictions are removed from their driver's license. This is the full privilege license in Connecticut.