How to get a Connecticut Drivers License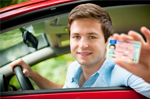 Connecticut Driver's License Guidelines
How to Prepare for the Written Exam
Required ID and Paperwork
CT Driver's License Rules and Requirements
Find out the steps to get your CT drivers license, pass your DMV written test, replace your out-of-state license and the required paperwork to bring to the DMV office to get your driver's license.
Try Sample Test!
All applicants need to be familiar with the Connecticut Driver's Manual. Think you know the material? Take our DMV practice test now and test your driving knowledge.
Get your CT Driver's Permit
If this is your first driver's license, you will need to apply for a Connecticut learners permit which requires a written exam on traffic signs, motor vehicle laws and safe driving techniques. Once you receive a valid learner's permit, you will then need to provide proof that you have received at least 40 hours of behind the wheel practice driving while supervised by a parent, legal guardian or a driving school instructor. You must then pass a second knowledge test, a road skills test and vision tests to receive a CT driver's license.
Connecticut law requires anyone, regardless of age, who has not previously held a license in Connecticut or who does not hold a valid license issued by another state, to take an 8-hour Safe Driving Practices course at a Connecticut Commercial Driving School before he or she can obtain a license.
A parent or legal guardian of a teen who obtains a learner's permit on or after August 1, 2008, is required to complete two hours of instruction with his or her teen concerning the laws governing drivers under age 18 and the dangers of teen driving. This course may be offered by a commercial driving or secondary school and will be included in the eight-hour program already required for all 16- and 17-year-olds.
Prepare for the Written Knowledge Test
The Connecticut DMV requires that all applicants must pass a written exam on traffic signs, motor vehicle laws and safe driving techniques. If you fail the exam, some states require you to wait until at least the next day to take the test again and charge a re-examination fee.
All new drivers are encouraged to study for this driver education exam so you don't miss the opportunity to get your learners permit as soon as you reach the approved age. Online practice tests are available that provide real sample questions from the DMV Exam - Take the Connecticut practice permit test now and test your driving knowledge.
New Connecticut Residents
New residents with an out-of-state license must obtain a Connecticut driver's license within 30 days of establishing a permanent residence in CT. When heading to the DMV, be sure to bring the license from your former state as you will be required to surrender it in order to obtain the new license.
The operator must possess an out-of-state license which has not expired for more than 2 years. A vision test will be administered prior to the issuance of the Connecticut license. The knowledge and road tests may be waived at the discretion of the Agent.
Sixteen and seventeen year old applicants who hold a driver's license from another jurisdiction are required to attend driver education class and pass the road test. If your out of state license has expired for more than two years, you will be required to take an 8 hour safe driving practices course at a Connecticut licensed driving school and take the vision, knowledge and skills test at a DMV office.
International Drivers
Foreign travelers on a visitor's visa may operate a motor vehicle in Connecticut for one year with a valid out of country license and an International Driver Permit which is obtained from your home country. If you plan to establish residency in Connecticut, you'll have 30 days to obtain for a Connecticut Driver's License.
Required Paperwork
Before you head to the Connecticut DMV Office, make sure you have all of the following required documents to get your driver's license:
Your Learner's Permit
Completed Application for Driver License (Form R-229) which can be obtained at the DMV branch office or requested from the website. Your qualified trainer must sign the Application for Driver License (Form R-229) attesting that all driver education/practice driving requirements have been fulfilled.
CS-1 Driver Education Certificate verifying completion of driver training.
A vehicle that can be used for the Road Test
A valid registration and proof of insurance for your test vehicle. The proof of insurance must be in the name of the registered owner of the vehicle. (If the vehicle is leased, proof of insurance may be in the name of the lessee).
License Fee
On the Road
Once your licensing requirements have been met, you will receive your new:
Restricted Driver's License (16 and 4 months to 18 years of age) valid for 6 years.
Full Driver's License (18 to 65 years of age) valid for 6 years.
Full Driver's License (65 years of age and older) valid for 2 years.
Remember... the safe operation of a vehicle requires practiced skill, knowledge, and a respectful understanding of the limitations imposed by the other drivers and the environment.
Connecticut Driver's License Resources