Wyoming DMV Practice Test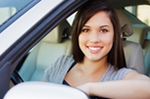 Gain the skills and confidence you need
A fun and fast prep course
Our practice test is completely online
Course Summary
If you need to prepare for the written portion of your driving exam, then we recommend choosing our Wyoming DMV practice test to better assist you. New and inventive, this prep course has been known to help plenty of other drivers. If you want your first trip to the DMV to be your only trip, then you'll enroll today. This program is for you!
details
Sign Up Now - Instant Access
Take the fun approach to learning!
We've designed our prep course to be as simple as possible. As soon as you're logged in, you will receive 20 questions regarding road rules and road signs. At the end of each question, you will be able to review the correct answer, as well as a detailed explanation.
Questions are similar to those on the real exam
Take the prep course as many times as you want
Efficiently prepare without a study guide or handbook
We're proud to mention that our course is completely guaranteed. After you've successfully passed our road rules and road signs tests at least five times each, we guarantee your first trip to the DMV will be prosperous. If you don't pass the written exam, we will return your money spent on the course.
You can't afford to avoid this course!
Our Wyoming DMV practice test is unique and stands out from other training programs. You don't have to wait to become a licensed driver. Our prep course will quickly prepare you and give you an edge over other drivers. You'll even be able to learn safe driving techniques from your own living room!
An interactive course that is fun to use
You can log in and out at your own discretion
Become fully prepared for the real DMV exam
We ask all of our applicants to be familiar with the Wyoming Driver's Manual. Do you think you currently are? You can test your knowledge today by taking our FREE DMV practice test.
Are you ready to go for a drive?
In the State of Wyoming, if a driver is 14 years old, then he or she can earn a learner's permit. Before a restricted license can be obtained, a driver must log 50 practice hours. Once a driver turns 16, he or she will be able to gain their restricted license. After a driver turns 16 years and 6 months old, he or she can work towards achieving a full driver's license.
We're offering you the amazing opportunity to test your driving knowledge today! We will efficiently educate you on an array of subjects, including: traffic signs, motor vehicles laws, and safe driving techniques. Now, when it comes to getting your driver's license, there's no reason to hesitate.