West Virginia DMV Practice Test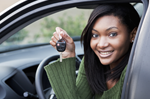 Enroll and start preparing today
Completely guaranteed - or your money back
Lose your fear of failing the exam
Course Summary
Becoming a licensed driver doesn't have to be a hassling task. Our West Virginia DMV practice test was developed to give you a high level of confidence and skills to ensure you reach success at the local DMV. You don't want to take the written exam more than once, right? With our help, you won't have to worry about failing - you're guaranteed to pass!
details
Sign Up Now - Instant Access
Give our course a try!
We don't want to add stress to your life. Therefore, our West Virginia DMV practice test was created to be convenient and accessible. Here's the process: You'll be given 20 questions that spotlight road rules and road signs. After each question, you'll see the correct answer, as well as a detailed explanation.
Prep questions are extremely close to real DMV questions
Proven to be effective and resourceful
There's no need for boring study guides
This course is 100 percent guaranteed. After you've successfully passed our road rules and road signs tests at least five times each, we guarantee you'll pass the real DMV exam. But if you don't, we'll proudly refund your money for the price of our course.
Do yourself a favor - join our program!
Take the unconventional approach to preparing for your driver's license exam. You'll be completely entertained throughout the process, as well as be able to retain all of the information needed to ace the written portion of the DMV exam.
Unlimited amount of chances to practice
Prep course is interactive and user-friendly
You'll fly right through the written exam and pass
Are you ready to enroll in our prep course? Great, but it's imperative that you're familiar with the West Virginia Driver's Manual. You can test your knowledge on this document now by taking our FREE DMV practice test.
We'll help you get your driver's license!
If you're currently 15 years old and in the State of West Virginia, you are legally able to apply for a learner's permit. Before you can apply for a restricted driver's license, you will have to have held your permit for 6 months, log 50 hours of practice, and turn 16. Once you turn 17 years old, you'll be able to work towards a full driver's license.
Don't wait to test your driving knowledge tomorrow when you can measure your driving skills today! It's our goal to assist you in becoming a safe and reliable driver. You've got nothing to lose, so take advantage of our program now!