Vermont DMV Practice Test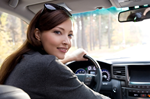 Avoid failing the written portion of the DMV Exam
Prepare with questions similar to those on the real test
Work wherever and whenever your schedule sees fit
Course Summary
Are you prepared to become a licensed driver? If you want to ensure you're first trip to the DMV is a successful one, then you should consider enrolling in our Vermont DMV practice test. This course may be easy to use and complete, but the information provided is stimulating and will give you the knowledge you need to become a star at the DMV.
details
Sign Up Now - Instant Access
Become the best driver you can be!
We've designed the course to be completely user-friendly. Once you're logged in, you will be asked 20 various questions on road rules and road signs. These questions will change after each time you sign in, so feel free to repeat the course as frequently as you want.
Correct answers given at the end of each question
Proven to be effective and resourceful
100 percent money-back guarantee
Yes, you read correctly - our course is completely guaranteed. When you pass our road rules and road signs tests at least five times each, we guarantee you'll pass the written exam at the DMV. If we're wrong, then your money spent on our prep course will be returned.
There's no better way to prepare for the DMV!
Sure, our Vermont DMV practice test is informative, but we don't want you to be bored throughout the process. Therefore, we've designed a resource that is both educational and interesting to learn.
A fun, interactive course
Offered at an affordable rate
Unlimited chances to practice
If you're planning on enrolling in our prep course, it's imperative to be familiar with the Vermont Driver's Manual. Are you? Take our FREE DMV practice test to find out!
Drive with skills and confidence!
In the State of Vermont, you have to be 15 years old to obtain your learner's permit and must retain this permit for one year, as well as log 40 practice hours. Once you're 16 years old, you can move on to a restricted driver's license. Finally, after you've reached 16 years and 6 months, you'll be able to work towards a full driver's license.
Don't waste a trip to the DMV; make sure you're completely ready for the exam! Assess your skills today! We'll provide you with knowledge and confidence, but you've got to register for our prep course!