DMV Practice Test for Your Utah Driver's License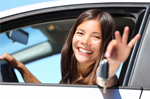 Gain the confidence and skills to succeed
Only go to the DMV one time
Become a licensed driver in no time
Course Summary
Becoming a licensed driver is an important task, but it doesn't have to be a difficult process. We encourage you to enroll in our Utah DMV practice test to ensure that your first trip to the DMV is a successful one. Why delay becoming a licensed driver? Enroll in our fun and easy prep course today!
details
Sign Up Now - Instant Access
Get schooled in driving!
You don't have to sweat - our prep course isn't like other classes. Stimulating, exciting, and convenient, here's how it works: As soon as you register, you'll be asked 20 questions regarding road rules and road signs. You'll be pleased to know that these questions are rather close to the same ones asked on the real DMV exam!
Questions change, so take the tests as often as needed
You'll be given correct answers and detailed explanations
There are no handbooks or study guides involved
We've saved the best for last: Our Utah DMV practice test is completely guaranteed! After you've successfully passed our road rules and road signs tests at least five times each, we know and guarantee you'll pass the written portion of the DMV exam on your first try. If you don't, you'll receive a full refund for the price of the prep course.
You'll enjoy taking this prep course!
To ensure you have a fun time while participating in our course, we've loaded it with amazing benefits. You'll have no trouble retaining this important information, as it's presented in an easy to learn manner. The course even utilizes proven teaching methods.
Learn on your time and your schedule
No commuting - work from home
Course is completely user-friendly
Are you currently familiar with the Utah Driver's Manual? Before taking our prep course, you'll want to know this material. Test your skills now by taking our FREE DMV practice test.
Grab the keys to your future!
If you're in the State of Utah and ready to drive, it's important to know a few facts. For example, you won't be able to get your learner's permit until you're 15 years old. You will have to hold onto this permit for six months and log 40 practice hours. Once you turn 16, you can work to obtain a restricted driver's license. However, if you're under 17, you won't be permitted to drive between the hours of midnight and 4 AM. After you've turned 17, you'll be eligible to retain a full license.
You don't want to walk into the DMV unprepared, do you? We invite you to test your driving knowledge now! We'll make sure you're completely comfortable taking the written exam.