Rhode Island DMV Practice Test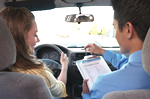 Take the test BEFORE your test day!
Go in PREPARED and READY!
Pass on your FIRST TRY, guaranteed!
Course Summary
Modeled after the official state exam
Includes random test questions with each retake
Will help you learn more about key topics
Accessible via computer and mobile devices
Offered with a money-back guarantee
details
Sign Up Now - Instant Access
Taking Advantage of this Resource is Simple
At Test Questions and Answers, we believe that our online DMV practice tests are tremendous resources - and our Rhode Island DMV practice test is no different. To take advantage of this study resource, simply complete the online registration process. After you have enrolled, you will be able to take our sample practice tests as often as you like. The process works as such:
Sign in to take your practice test
Complete 20 random questions on road rules, signage, and driving technique
Learn which answers you've answered incorrectly - and what the correct answers are
Retake your practice test as often as you like - each practice test is unique
With our Rhode Island DMV practice test at your side, you'll be able to approach the state's official license exam with confidence! What's not to like?
You Won't Find a Better Study Resource!
Why bother trudging through pages and pages of content when you can simply take the license exam over and over again? That is the promise of our Rhode Island DMV practice test. Modeled after the official exam, and covering the same concepts and questions, it provides a chance to familiarize yourself with the test you will be required to take when applying for your license. The benefits of our practice test include:
Available online for your convenience
Thousands of sample questions available
Will help you become familiar with test format and questions
Includes comprehensive information
Guaranteed to help you pass on your FIRST try
Our Rhode Island DMV practice test is a tremendous resource - one that we are confident you find meets all of your needs!
Earn Your Driving Privileges - Here's How:
If you are between 16 and 18 years of age and have completed the state-mandated 33.5 hour driver education course certified by the Community College of Rhode Island, you can apply for a drivers permit. You will be required to satisfy the following additional requirements:
Pass a written knowledge exam (may be satisfied in Driver Ed course)
Provide proof of residency
Provide proof of identity and birth date
Provide proof of parental consent (parent or guardian must accompany you to present permit application)
Provide social security information
One these criteria have been met, you will be issued a permit that is valid for one year or until the applicant turns 18 years of age.