How to get a Rhode Island Driver's License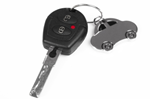 Rhode Island Driver's License Guidelines
How to Prepare for the Written Exam
Required ID and Paperwork
RI Driver's License Rules and Requirements
Find out the steps to get your drivers license, pass your DMV written test, replace your out-of-state license and the required paperwork to bring to the DMV office to get your driver's license.
Try Sample Test!
All applicants need to be familiar with the Rhode Island Driver's Manual. Think you know the material? Take our DMV practice test now and test your driving knowledge.
Get your RI Driver's Permit
You must be at least 16 years of age and show proof of completion of the 33 ½ hour driver education course certified by the Community College of Rhode Island to apply for a Rhode Island Limited Provisional Driver's License.
If this is your first driver's license, you will need to apply for a Rhode Island limited instructional permit which requires you to pass a written exam on traffic signs, motor vehicle laws and safe driving techniques in addition to vision test.
Once you receive a valid limited instructional permit, you will then need to pass a road skills test to receive a RI drivers license.
Applicants under 18 must have held a learners permit for 6 months and show proof that you completed an approved driver education course, and complete an additional 50 hours (10 at night) of supervised driving experience before taking the road skills test.
Prepare for the Written Knowledge Test
All new drivers are encouraged to study for this driver education exam so you don't miss the opportunity to get your learners permit as soon as you reach the approved age. Online practice tests are available that provide real sample questions from the DMV Exam - Take the Rhode Island practice test now and test your driving knowledge.
New Rhode Island Residents
New residents with an out-of-state license must obtain a Rhode Island upon establishing a permanent residence in RI. When heading to the DMV, be sure to bring the license from your former state as you will be required to surrender it in order to obtain the new license.
Your initial Rhode Island license will be valid for up to two years, expiring on your birthday. At that time you may renew for five (5) years.
If your out-of-state driver's license is expired for more than one (1) year, you will be required to apply for an instruction permit as a new driver and pass all required testing.
International Drivers
Rhode Island honors a valid foreign driver's license with an international driving permit for a period of one year. Once your foreign license expires, you must apply for a RI learners permit and pass all required testing to receive a driver's license.
Required Paperwork
Before you head to the Rhode Island DMV Office, make sure you have all of the following required documents to get your driver's license:
On the Road
Once your licensing requirements have been met, you will receive your new:
Restricted License (16 to 17 years of age) valid for 2 years.
Full driver's license (18 and older) valid for 5 years.
Remember... the safe operation of a vehicle requires practiced skill, knowledge, and a respectful understanding of the limitations imposed by the other drivers and the environment.
Rhode Island Driver's License Resources