North Dakota DMV Practice Test Course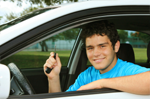 Know the answers BEFORE taking the test!
Random questions every time you log in!
Guaranteed to help you pass on your FIRST try!
Course Summary
Available entirely online
Includes same questions found on license exam
Includes same format found on license exam
Unlimited retakes are allowed for your convenience
Money-back guarantee provided
details
Sign Up Now - Instant Access
Enroll, Sign Up, and Pass!
At Test Questions and Answers, we have developed our North Dakota DMV practice test with the help of industry experts. We are confident that you will find it to be a much better alternative to the official state driver handbook. Why? For a number of reasons, actually!
Available across mobile devices for your convenience
Thousands of questions to choose from
Provides correct answers when incorrect answers are selected
Helps familiarize you with actual license exam
Our North Dakota DMV practice test does not approach studying in a conceptual manner but rather a practical one. It provides you with everything that you need to pass the test with ease - and nothing more!
Don't Get Lost in a Sea of Pages - Cut Through the Murk
One of the reasons that our North Dakota DMV practice test is so beneficial is that it has been designed with a simple goal in mind: to help you pass the license exam on your first try. For this reason, we have been able to fine-tune this resource so that it satisfies your most immediate needs. The official state driver handbook may be comprehensive but it's also difficult to get through; it's cumbersome and not very user-friendly, which in the end results in a resource that isn't very effective.
Our North Dakota DMV practice test is the opposite. It presents you with only the information that you need and nothing more! The benefits of this approach are many:
Convenient
Practical
User-friendly
Effective
Take advantage of this online study resource and see for yourself. We are confident that you will not find a better study companion than our own!
Obtaining Your North Dakota Driver's License
Residents of North Dakota can obtain a restricted driving license at the age of 15. To apply for your restricted license, you must:
Pass a written knowledge exam
Show proof of parental consent
Provide proof of identification, including a social security card
No reservation is required to take and complete the written examination; however, when the time comes to take the driving test for your license, this will need to be arranged in advance.