New Jersey DMV Practice Test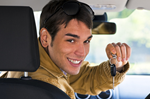 Study anytime!
Study anywhere!
Study on your tablet or laptop!
Course Summary
Take your driver's license test with confidence
Take the "test" right from home!
Covers the same concepts and topics
Available online for your convenience
Guaranteed results!
details
Sign Up Now - Instant Access
A Simple yet Effective Resource
Taking advantage of our New Jersey DMV practice test is easy - all you have to do is complete the online registration process to get started! Once you have registered, you will be provided with access to all of your course materials, which you can review at your own pace, on your own time. Each time that you take one of our practice tests, you will be presented with a random set of 20 questions covering a range of different topics, including:
Road rules
Road signage identification
Proper driving techniques
With thousands of questions in our database, you're likely to never see the same questions twice. You can take our test as many times as you like in order to familiarize yourself with the concepts found on the official exam.
The Benefits are Simple: Your Driving Privileges!
We have such confidence in our New Jersey DMV practice test that we guarantee results. If you take our practice test and pass it at least three times, we guarantee that you will pass your official license exam on your first try - or your money back! That is because our practice tests do such a good job of preparing you for the license exam. They cover the same concepts and include the same types of questions. In short, they are:
Fun and engaging!
Convenient!
User-friendly!
Effective!
Have You Met All the Requirements?
The New Jersey Motor Vehicle Commission requires all first-time drivers, as well as all drivers under the age of 21, to complete a graduated driver license program before they can obtain their New Jersey driver's license. During this probationary period, certain driving restrictions will apply. To earn your license, you will need to pass both written and vision tests, as well as complete a driver training course.
Only after these initial requirements have been satisfied will you be able to apply for your New Jersey license. Don't go into that test unprepared - take advantage of our New Jersey DMV practice test!