New Hampshire DMV Practice Test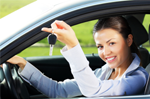 A comprehensive resource
Modeled after the official exam
User-friendly and intuitive
Course Summary
Covers the same topics as the official test
Includes the same questions as the official test
Easy to use and incredibly convenient
Offered entirely online
100% money-back guarantee
details
Sign Up Now - Instant Access
All You Need to Pass Your First Time!
With our New Hampshire DMV practice test, you'll be able to familiarize yourself with the concepts and topics covered on the official driver's license exam. This is because our practice tests include the same types of questions and cover the same topics as the actual exam. In effect, taking our practice test is like being able to see the test questions before ever setting foot in the motor vehicle office! To take advantage of our practice test, simply:
Complete the online registration process
Gain instant access to the course materials
Take the practice test with 20 sample questions
Retake the practice test as often as you'd like - each one is unique!
Nothing to Lose and Everything to Gain
We have developed our New Hampshire DMV practice test with your needs in mind and are confident that you will find it to be incredibly beneficial. So what's so great about our DMV practice tests? What makes them a better alternative to the standard driver handbook? The answers are many:
Offered entirely online
Study from anywhere
Includes actual test questions
Can retake our tests as often as needed
Comes with a money-back guarantee!
Your Guide to New Hampshire Driver Licensing
As with most states, underage drivers in New Hampshire must first complete a state-approved driver education course before they are able to apply for their driver's license. Additionally, all applicants must pass vision, written, and driving tests prior to being issued their driver's license. Once these requirements have been met, applicants will pay a small fee and receive a temporary license. The permanent license will arrive by mail at a later point in time.
In the State of New Hampshire, underage drivers are issued Youth Operator licenses, which expire when they reach the age of 21.
New Hampshire Driver's License Resources