Nevada DMV Practice Test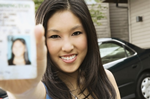 Learn the fundamentals!
Study at your own pace!
Take advantage of our guarantee!
Course Summary
Familiarize yourself with basic concepts
Offered entirely online for your convenience
A comprehensive and effective study resource
User-friendly and intuitive
100% money-back guarantee
details
Sign Up Now - Instant Access
It's Simple and Easy
We have developed our Nevada DMV practice test in such a way that you can study with it anytime, anywhere. We are confident that you will find it to be convenient, user-friendly, and effective. To take advantage of our practice test, simply follow these simple steps:
Complete the online registration process
Access the course materials instantly
Take a practice test with 20 questions covering road rules and signage
Retake the practice test as often as you need to - no two tests are the same!
Designed to Meet Your Needs
If you are looking for a study guide that has been developed with your needs in mind, you can stop looking. Our Nevada DMV practice test includes all of the information that you need, is easy to use, and is highly effective. If you have been struggling with the official driver handbook, we are confident that you'll find our online Nevada DMV practice test is a superior alternative. It is:
User-friendly and intuitive
Designed to mimic the actual license test
Available entirely online
Fun and engaging
Go In Prepared and Ready
Are you under 18? If so, you'll be required to complete a driver education course before you can earn your Nevada driver's license. To satisfy this requirement, you'll need to complete 50 hours of behind-the-wheel experience, as well as a state-approved classroom or online driver education program (unless no courses are provided within 30 miles of your home, in which case you can apply after having completed 100 hours of behind-the-wheel training). Once you have fulfilled the basic prerequisites, you will need to:
Pass a written test
Pass a vision test
Pass a driving test
Only after these criteria are met will you be issued your driver's license. To help prepare for your written test, we encourage you to take advantage of our Nevada DMV practice test.
Nevada Driver's License Resources