Nebraska DMV Practice Test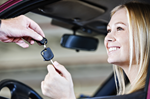 Don't risk failing on your first attempt!
Go into your test prepared and ready!
You've got nothing to lose - money-back guarantee!
Course Summary
Prepare for your test with random sample quizzes
Study entirely online anytime, anywhere
Ditch the paper manual and go digital
Designed around your needs
100% money-back guarantee
details
Sign Up Now - Instant Access
Simple. Effective. Convenient.
We have developed our Nebraska DMV practice test with your needs in mind and are confident that you will find it to be a tremendously beneficial resource. Our practice test is available entirely online for your convenience and covers the same topics and concepts that are found on the official state exam - in short, it's a comprehensive, intuitive, easy-to-use, and effective study resource. So how does it work? Well, it's easy. Simply:
Enroll online using the registration process
Take a sample test with 20 random questions on traffic laws and road signage
Retake the sample test as many times as needed - it's never the same questions twice!
If you take and pass our sample test at least three times in a row, you can rest assured that you will have the knowledge needed to pass the official exam. In fact, we guarantee it!
A Resource Designed with Your Benefits in Mind
So what makes our online Nebraska DMV practice test such a great resource? Put simply, it has been developed by experts to meet the needs of individuals just like you. Available entirely online, our practice test allows you to study from the coffee shop, library, car, bus, subway, or couch - on your own time, at your own pace.
We make studying easy at TQA because we understand that regardless of how comprehensive or informative a resource may be, it benefits no one if it's too cumbersome to pick up and use! Our Nebraska DMV practice test is:
User-friendly
Fun and interactive
Effective
What more could you want in a study resource?
Here's What You Need to Know
If you are under 18 years of age, you can apply for a Nebraska provisional operator's permit (POP). You can apply to take this test 60 days prior to your 16th birthday, though the permit will not actually be issued until you turn 16 years of age. This provisional permit will remain valid until the license holder's 18th birthday, at which point it will be replaced with a non-provisional operator's permit.
To apply for a Nebraska provisional operator's permit, applicants must complete the following requirements:
Complete a driver safety course approved by the Nebraska DMV, and
Pass a written test and driving exam given by their driving safety course instructor; or
Present a 50-hour certification form signed by a parent or guardian indicating equivalency training
Nebraska Driver's License Resources