Missouri DMV Practice Test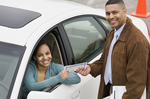 Pass the Missouri DMV test with ease!
Study for just a short time and get your license the first time!
Know the answers to all the possible test questions!
Course Summary
Take the Missouri DMV written driving test with confidence
Study when you want: you can access the DMV practice tests on any device
Don't wait another day to pass the Missouri written driving tests
details
Sign Up Now - Instant Access
Enroll Today to Access Our Practice Test
Our online practice test is designed to make sure you pass both written license exams and become a better driver in the process. Each practice test has 20 questions that are similar to the questions you will see on the two written Missouri driving tests.
Get the answers right the next time and every time after that - if you miss a question, the practice test will provide you with a clear explanation of the correct answer
Take the test until you feel confident - there's no limit on how many different DMV practice tests you can take
There's nothing to lose - the prep course comes with our money-back guarantee
After you have successfully passed our practice tests at least five times, we guarantee that you will pass the two official state driver's tests. Walk into the Missouri State Highway Patrol Examination Division feeling prepared and ready!
Developed for Individuals Just Like You
Use our online practice test course to prep you for the real thing, at the DMV! We have developed our Missouri DMV practice test with your needs in mind. The benefits are many, and include:
Easy-to-use online course
Use it when you need it: log in from anywhere, anytime
Take the DMV practice tests as many times as you need
Improve your safe driving techniques with our Missouri DMV practice tests today! You will be on the road in no time!
How to Earn Your Missouri Driving Privileges
Missouri drivers must be at least 16 years of age to be eligible for their license. As with most states, Missouri has implemented a graduated driver license program to help ensure minors gain the experience they need to be safe and responsible drivers.
Learner's Permit
In order to obtain your learner's permit in Missouri, you must be at least 15 ½ years of age. Additionally, you must complete 40 hours of a driving instructional course.
Be Prepared for the Two Written Tests
Missouri requires all drivers with a permit to pass two written driving tests: one tests your knowledge of traffic laws and rules while the other tests your knowledge of road signage. After passing these two written tests, in addition to the driving skills test, you are then eligible for your Missouri driver's license.
If you fail the two tests twice, you must then wait a whole day to take them again.
Ensure that you're ready for the written test today! Take advantage of our Missouri DMV practice test!
Missouri Driver's License Resources