Mississippi DMV Practice Test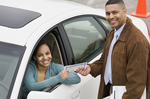 Comes with our 100% money-back guarantee
DMV practice tests designed for success
Pass the permit test the first time
Course Summary
Take as many practice tests as you need
Over 90% of our students pass the learner's permit test the first time
Our DMV practice tests come with our money-back guarantee
details
Sign Up Now - Instant Access
A Simple and User-friendly Resource
We have a nearly unlimited amount of DMV practice tests that you can take to ensure you know the essentials. Our Mississippi DMV practice test has been designed with your needs in mind, and we are confident you will find it to be a tremendous resource.
Each practice test includes 20 questions taken from a pool of possible questions that may be found on the DPS's license exam
The practice test provides you will a detailed explanation if you incorrectly answer a question so you won't miss that question again
Once you have taken our practice tests at least 5 times, we guarantee that you will pass your learner's permit test or license exam the first time!
The Quickest Way to Pass the Mississippi Learner's Permit Test
We want to make sure that our students become smart and safe drivers, which is why we ensure that you will learn driver's safety and pass the learner's permit test. That is the promise of our Mississippi DMV practice test.
Access the DMV practice tests from anywhere: your mobile device, your laptop, or your desktop computer
Walk out of the Mississippi DPS with your learner's permit in hand
Gain safe driving techniques
Earn Your Mississippi Driver's License with Ease
In Mississippi, you must be at least 16 years old to obtain your driver's license. Additionally, you must have had your permit for at least a year before becoming eligible for a license at 16 years of age.
New Drivers
All new drivers under the age of 17 must pass a written Mississippi driver's permit test. You must answer at least 24 of the 30 questions correctly in order to pass the test. If you fail the written permit test three times in a 30 day period, you must wait another 30 days until you may take the test again. With our Mississippi DMV practice test as your study guide, you can go into your written exam prepared and ready.
Mississippi Driver's License Resources