Massachusetts DMV Practice Test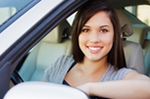 Take as many practice tests as you need
Pass the DMV test with flying colors
Comes with our money-back guarantee
Course Summary
Toss those annoying handbooks aside - access the DMV practice tests electronically
You won't walk out of the DMV empty-handed - pass the DMV test the first time
We're confident that it works - our practice tests come with our money-back guarantee
details
Sign Up Now - Instant Access
Pass the DMV Test with Flying Colors
Our practice tests include randomly selected questions that are similar to those on the official Massachusetts license exam. If you miss a question on our practice test, you will be provided with a clear explanation of the correct answer so that you can make certain you don't miss it again! We have developed our Massachusetts DMV practice test with your needs in mind.
Learn the rules of the road in a fun and easy manner
Become a better driver and learn invaluable insight on safe driving techniques
We know it works! Over 90% of our drivers pass the first time!
If you successfully pass our Massachusetts DMV practice test at least five times, we guarantee that you will pass the learner's permit exam the first time!
Our Drivers Pass the First Time!
We're confident that our Massachusetts DMV practice test will allow you to pass the license test the first time! Not convinced yet? Drivers who use our practice tests are more likely to pass the test than those who don't!
Avoid the extra fees and embarrassment - don't fail the license exam multiple times
Take the practice tests as often as you need until you feel confident
Walk out of the DMV with your permit or license in hand
All applicants need to be familiar with the Massachusetts Driver's Manual. Think you know the material?
Take our FREE DMV practice test now and test your driving knowledge.
Try Sample Test!
Want your Massachusetts Driver's License?
If you're at least 16 ½ years old, follow these steps:
Pass your Learner's Permit Exam - the exam has 25 questions and you must answer 18 correctly in order to pass
Pass the Road Test - after your permit exam, you may take the road test, in which you must drive with a state-licensed instructor
Finished both steps? Then congratulations, you're a Massachusetts Licensed Driver! And think, it's all because you practiced with our online DMV practice tests!
Massachusetts Driver's License Resources