DMV Practice Test for Your Kansas Driver's License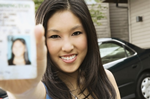 Become a comfortable and confident driver
The course is inexpensive and easy
Avoid failing the written portion of the DMV exam
Course Summary
No one wants to take the written portion of their DMV exam more than once! With our Kansas DMV practice test, you won't have to! Not only will you learn important facts regarding safe driving procedures, but you'll also enjoy the process of reviewing actual information found on the real DMV test. You can never be too prepared, so register for our online course today!
details
Sign Up Now - Instant Access
Achieve success on your first attempt!
Our prep course was designed to be fun and easy to access. As soon as you get started, you'll be exposed to 20 various questions centering on the subjects of road rules and road signs. For your benefit, these questions will be quite comparable to those asked on the real DMV exam. At the end, you'll be given the correct answers.
New questions form after each time you log in
Feel free to study as often as you want
It's as if you'll have the answers before taking the test
As this prep course is completely guaranteed, you've got nothing to lose! If you successfully take and pass the road rules and road signs test at least five times each, we guarantee you'll pass the written portion of your driver's test on your first try. If you don't, we'll provide you with a full refund for the price of our course.
There are plenty of reasons to enroll in our prep course!
Going to the DMV can be a hassle, so you'll only want to do it once. Our prep course will ensure you learn imperative driving facts in an enjoyable, user-friendly method. With our professional assistance, you'll feel self-assured every time you're on the road.
You can study completely online
You'll have control of the whole process
Quickly become prepared for the real exam
Are you currently familiar with the Kansas Driver's Manual? If you're unsure, we invite you to take our FREE DMV practice test. Don't you want to be prepared as much as possible?
Don't rely on someone else to drive you around.
Are you ready to get your driver's license in the State of Kansas? Before you take time to travel to the local DMV, take a look at some helpful information regarding appropriate ages and restrictions.
For starters, a driver will have to be at least 14 years old before he or she can earn a learner's permit. After this permit has been held for 6 months and the driver is between the ages of 15 and 16, he or she will be permitted to get a restricted license. A driver will not be able to receive a full license until he or she is at least 17 years old.
You can test your driving knowledge right now! You don't have to avoid becoming a licensed driver any longer. Have the honor of passing the written portion of your DMV exam on your first try!
Kansas Driver's License Resources