Georgia DMV Practice Test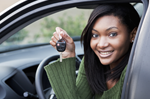 Available with a money-back guarantee
Unlimited DMV practice test with our prep course
Know the answers prior to taking the actual exam
Course Summary
This Fast, EASY, and EFFECTIVE course is perfect to help you pass your written test, eliminates the need to study handbooks, and avoid the 50 percent failure rate.
details
Sign Up Now - Instant Access
Pass your driver's license on your first try!
How our prep course works: After you create a unique username and password, you have the tremendous ability to log on and off as you see fit. When you log in, you are introduced to the 20 random road rules and road sign questions as they are seen on the Georgia driver's license. Our Georgia DMV practice test offers:
A money-back guarantee
The ability to learn the Road Signs and Road Rules Tests
Like having the answers BEFORE you take the test!
Once you have taken and passed each practice tests at least five times, we guarantee that you'll ace the driver's test the FIRST try. If you fail on this attempt, we will provide you with a full refund for the course.
The right way to pass your Georgia driver's license exam!
This Georgia DMV practice test course is ideal to help you pass you driver's license test, for it has been developed proven teaching methods designed for our military service members.
Fun, easy, and interactive coursework
Learn the Rules of the Road and Road Signs
Available with unlimited practice exams, including our money-back guarantee
We highly suggest that all of our applicants need to be familiar with the Georgia Driver's Manual. If you feel comfortable with the material, you should take our FREE DMV practice tests now!
How to Obtain your Georgia Driver's License
Under Georgia DDS guidelines, you need to be at least 16 years old to apply for a GA license.
First Time Drivers
If you are applying for your first driver's license, you will need to apply for a GA learner's permit, which will require you to pass a written test on road rules and road signs, motor vehicle laws and safe driving techniques. After receiving your learner's permit, you will need to pass a road skill and vision test to obtain your GA license.
Prepare for the Written Exam
The Georgia DMV requires that all applicants must have a written exam on traffic signs, motor vehicle laws, and safe driving techniques. If you fail the exam on you initial attempts, most states require you to wait until at least a year to take the test again (with a re-examination fee).
Test your driving knowledge today! We also highly encourage new drivers to study for this driver education exam, so you don't miss the opportunity to get your license!
Georgia Driver's License Resources