Wyoming Learner's Permit Practice Test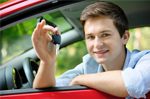 Prepare quickly and effectively
Course available at inexpensive rate
Unlimited chances to study
Course Summary
Don't you want to obtain your learner's permit as soon as you're legally able to? Are you worried that you may go to the DMV and fail the exam? We will help eliminate that doubt from your mind. When you enroll in our Wyoming learner's permit practice test, you will be successfully taking control of your future! Don't pass on this chance to learn - get started right away!
details
Sign Up Now - Instant Access
Course Background
You won't regret taking part in this unique opportunity that will allow you to gain your learner's permit. Are you interested in learning more about this awesome prep course? Once you've logged in, you will be asked 20 different questions regarding road rules and road signs.
New questions will constantly be generated throughout
Always receive accurate answers with detailed explanations
A stress-free way to learn safe driving skills
We are proud to state that our Wyoming learner's permit practice test is completely guaranteed. Once you successfully pass our road rules and road signs tests at least five times each, we guarantee you'll prosper at the DMV. If you don't receive your permit on your first try, we will issue you a refund for the price of our course.
Course Benefits
Wouldn't you like to go to the DMV and know for a fact that you're going to receive your permit? Our prep course is very convenient to take, but it's also fun and offers various benefits. This course was designed for drivers like you, so take advantage of it today!
You can study wherever and whenever you want
There are no study guides or boring handbooks to read
You'll prove that you belong on the road
Are you currently familiar with the Wyoming Driver's Manual? If so, then you're ready to get started. You can test your driving skills out right now by taking our DMV practice test.
The Permit
You will have to wait until your 15th birthday before you can apply for a learner's permit. You will be ordered to pass a written exam, as well as a vision test. If you hold this permit for six months and complete an approved driver's education course, then you can apply for full driving privileges. When going to the DMV, don't forget these required documents: state certified birth certificate, valid U.S. passport or Certificate of Naturalization, and a signature of a parent or guardian.
Don't fail your permit exam and get left behind. Take our practice permit test now to ensure you're driving on the soonest date possible. Prove to yourself and everyone else that you have what it takes to be a reliable driver. We will help you prosper, but you've got to enroll!
Wyoming DMV Graduated Driver License Laws
Stage One - Instruction Permit: A new driver must be at least 15 years old to apply for a learner's permit. The required holding period for a learner's permit is 10 days. The licensee must complete 50 hours of driving time, 10 of which is for nighttime driving.
Stage Two - Restricted License: The licensee must be at least 16 years old to qualify for a provisional license. The nighttime restriction for a provisional license is not being allowed to drive between the hours of 11 PM to 5 AM. The licensee is not allowed to have more than one passenger under the age of 18.
Stage Three - Full License: In order to remove the nighttime and passenger restriction in Wyoming, the licensee must be 16 years and 6 months old.