South Dakota Learners Permit Practice Test and Prep Course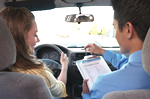 Study on your time, at your own pace
Learn the essentials
Take the official exam with confidence
Course Summary -
Earn Your South Dakota Learners Permit
There are a number of different ways that you can prepare for the official permit exam. You can study using the state's driver handbook, for example. However, we are confident that you will find the best method of preparation is utilizing our online practice tests.
If you are in the process of earning your driving privileges, we encourage you to register for our South Dakota learners permit practice test today - you won't regret it!
details
Sign Up Now - Instant Access
How Our Guide Works
Working with industry experts, we have developed our South Dakota learners permit practice test to be user-friendly, convenient, and effective. Studying with our practice test allows you in essence to take the official state exam before ever setting foot in the motor vehicle office. The process of utilizing this resource is simple:
Complete the Online Registration Process - once complete, you'll be able to log in to your account instantly; there are no downloads required
Take the Sample Practice Test - we have thousands of questions in our database and no two practice tests are exactly alike; answer 20 random questions and verify your answers afterward
Retake Our Practice Test - we encourage you to take our online practice tests multiple times; with each additional retake, you'll gain additional knowledge and insight that will help you on the official exam
The Benefits of Our Practice Tests
If you are wondering what the benefits of our online South Dakota learners permit practice test are, the answer in short is "many." We understand that no resource can be truly effective unless a person actually utilizes it in preparation for the test he or she is planning to take. If our practice test "sits on the shelf," so to speak, and goes unused, it can provide no benefits. For this reason, we have developed our practice test to be:
Have parental or guardian consent
Provide proof of identification
Provide proof of birth date
Provide proof of lawful status
Provide proof of social security number
Provide proof of residency
Our South Dakota learners permit practice test contains the information needed to pass the state's written exam on your FIRST try. We encourage you to enroll for this program today!
South Dakota DMV Graduated Driver License Laws
Stage One - Learners Permit: A new driver must be at least 14 years old to apply for an instruction permit. The required holding period for an instruction permit is 6 months, which is reduced to 3 months if the licensee has undergone driver education.
Stage Two - Restricted License: The licensee must be at least 14 years and 6 months old to qualify for a restricted license. For licensees with driver education, the age requirement is lowered to 14 years and 3 months. The nighttime restriction for a restricted license is not being allowed to drive between the hours of 10 PM to 6 AM.
Stage Three - Full License: In order to remove the nighttime and passenger restriction, the licensee must be 16 years old.