Rhode Island Learners Permit Practice Test and Prep Course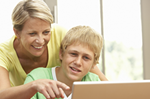 Know the answers ahead of time
See the test format ahead of time
Pass on your first try, guaranteed
Course Summary -
Earn Your Rhode Island Learners Permit
You're in luck if you are seeking a convenient, user-friendly, and effective resource to help you prepare for your permit exam: our Rhode Island learners permit practice test provides exactly what you seek! We encourage you to take advantage of this online guide today. You will not be disappointed. In fact, we think you'll find it to be a far better resource than the driver handbook!
details
Sign Up Now - Instant Access
How Our Guide Works
Preparing for your permit exam is made easy with our Rhode Island learners permit practice test. Simply follow these steps:
Enroll Online - once you've completed the registration process, you can log in
Take the Practice Test - our online tests are modeled after the official exam; answer 20 random questions on road rules and signage recognition
See Your Results - find our which questions you answered correctly and get the right answers for those that you incorrectly answered!
Retake the Test - with thousands of sample test questions in our database, no two practice tests are alike
The Benefits of Our Practice Tests
Our Rhode Island learners permit practice test has been developed with the help of industry experts. We have gone to these lengths in order to ensure that our online resource is convenient, practical, and effective. If you're not satisfied, then we're not satisfied! We are confident that you will find our online permit practice test to be of great benefit. Among the benefits it offers include:
Comprehensive - thousands of test questions available
Convenient - offered entirely online, our course is accessible on mobile device and computer
User-friendly - access our course materials at any time, from anywhere
Effective - helps you learn and retain the information you need to pass your exam
Guaranteed Results - if you fail your permit exam after practicing with our Rhode Island learners permit practice test, we'll refund your money
How to Earn Your RI Learners Permit
In the State of Rhode Island, all minors must complete a driver education course that is certified by the Community College of Rhode Island. Only after this requirement has been met can applicants take the written knowledge exam for their temporary instruction permit. To apply for your permit, you must:
Provide proof of parental consent
Provide proof of driver education completion
Pass a vision screening
Rhode Island DMV Graduated Driver License Laws
Stage One - Learners Permit: A new driver must be at least 16 years old to apply for a learner's permit. The required holding period for a learner's permit is 6 months. The licensee must complete 50 hours of driving time, 10 of which should be done at night to be eligible for a restricted license.
Stage Two - Restricted License: The licensee must be at least 16 years and 6 months old to qualify for a restricted license. The nighttime restriction for the provisional license is not being allowed to drive between the hours of 1 AM to 5 AM. For the first 12 months, the licensee is not allowed to have more than 1 passenger under the age of 21.
Stage Three - Unrestricted/Regular License: In order to get full driving privileges in Rhode Island for removing nighttime driving and passenger restrictions, the applicant must be at least 17 years old.