Pennsylvania Practice Permit Test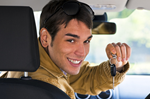 Study the essentials with sample questions
Prepare anywhere you have an Internet connection
Pass the permit test with ease
Course Summary
Utilizing our Pennsylvania learners permit practice test is quite simply one of the easiest and most effective ways to guarantee your success on the official permit exam. It is comprehensive, user-friendly, and convenient, and makes learning and retaining the information on the exam quick and easy. We are confident that you will not find a better resource. Enroll today and start reaping the many benefits it offers!
details
Sign Up Now - Instant Access
How the permit practice test works:
Our Pennsylvania learners permit practice test is available entirely online, and can be accessed from any Internet-enabled device. Each time you log in to take our practice test, you will be presented with 20 unique questions - selected at random from a database of over 1,000 sample questions - covering a range of appropriate topics, such as traffic laws and road signage. As you progress through each test, you will be able to see which questions you've answered incorrectly. Our permit practice test is a tremendously helpful resource, and we are confident you will find it meets all of your needs.
See the answers BEFORE you take the official permit exam
Brush up on road rules, road signage identification, and safe driving techniques
Take our Pennsylvania learners permit practice test as often as you want
The smart way to pass your driver's license exam!
Don't risk standing in line at the DMV office to go home empty-handed. With our Pennsylvania learners permit practice test, you can go into your permit exam with confidence, knowing that you are prepared and ready.
Course Benefits for First Time Driver
Receive the best preparation possible
Study the very concepts and questions you'll be tested on
Complete our practice tests at your own pace, on your own time
Course Benefits for Parents
Our Pennsylvania learners permit practice test is modeled after the official exam and will familiarize your son or daughter with the test's core elements
Our permit practice test is such an effective resource that we GUARANTEE results or your money back
Course is approved by the National Safety Commission
Pennsylvania GDL Laws
During the learner's permit phase, the licensee must complete 50 hours of driving time. Before applying for a junior license, the driver must be at least 16 years, 6 months old. The nighttime restriction for a junior license holder is between the hours of 11pm to 5am. To obtain a full unrestricted driver's license in Pennsylvania, the licensee must be at least 17 years old (18 if licensee has not taken driver education course).
Enroll in our comprehensive course today!
When you take advantage of our Pennsylvania learners permit practice test course, we can guarantee that you will be satisfied with the results. So go ahead - enroll today!