New York Learners Permit Practice Test and Prep Course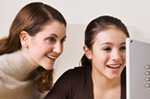 Designed to be convenient
Incredibly effective resource
Money-back guarantee provided
Course Summary -
Earn Your New York Learners Permit
Whether you live in Manhattan or Buffalo, we can help you earn your New York learners permit! At Test Questions and Answers, we have all of the resources you need to prepare for the official exam. Why risk not passing due to using the wrong resource? Our New York learners permit practice test will test you on the essentials while leaving out unnecessary filler! Enroll today and see for yourself how effective this resource can be.
details
Sign Up Now - Instant Access
How Our Guide Works
Studying with our New York learners permit practice test couldn't be easier! Simply:
Enroll Online - once you complete the registration process, you'll have immediate access to the course materials, from a laptop, computer, or handheld device
Take the Practice Test - modeled after the official exam, our practice test contains 20 random questions on traffic laws, road signage recognition, and safe driving techniques
Analyze Your Results - with each question that is answered incorrectly, we will provide you with the correct answer for your benefit
Retake the Test - with thousands of questions in our database, and questions selected at random, there's no limit to how often you take our test
The Benefits of Our Practice Tests
We are confident that you will find our New York learners permit practice test to be incredibly beneficial. Among the benefits it affords are:
Convenient - with mobile compatibility offered, you can study from anywhere at anytime
Comprehensive - there are thousands of questions in our database, so you'll never see the same question twice
Effective - our practice test mirrors that of the actual exam so that you can go into your test prepared
Guaranteed Results - if you should fail the actual permit test for any reason, we'll refund your money
How to Earn Your NY Learners Permit
In the State of New York, you must be at least 16 years old to apply for a learner license. In order to apply, you must also meet a number of criteria, including:
Provide proof of parental or guardian consent
Pass a written knowledge test on road rules, road signage, and safe driving techniques (you can satisfy this requirement through a state-approved driver education course; provide form MV-285 driver education certificate)
Provide proof of identity and residency, as well as your social security card
Pass a mandatory vision screening test
Whether you take the written test at the DMV or complete it through your driver education program, you'll still need to prepare in advance. That's where our New York learners permit practice test comes in - enroll today!
New York DMV Graduated Driver License Laws
Stage One - Learners Permit: A new driver must be at least 16 years old to apply for a learner's permit. The required holding period for a learner's permit is 6 months. The licensee must complete 50 hours of driving time (15 of which is for nighttime driving).
Learner's permit holders are not allowed to drive unless supervised by a supervising driver aged 21 or older. The DMV recommends that all learners have a minimum of 50 hours of supervised practice driving before they take their road tests, with at least 15 hours done after sunset. It is also recommended that at least 10 hours of supervised practice driving be in moderate to heavy traffic.
Stage Two - Junior License: The licensee must be at least 15 years old to qualify for a junior license. The nighttime restriction for a junior driver's license is not being allowed to drive between the hours of 9 PM to 5 AM. The licensee is not allowed to have more than one passenger under the age of 21 years old.
Stage Three - Full License: In order to remove the nighttime and passenger restriction in New York, the licensee must be 17 years old (18 if the licensee did not undergo driver education).