New Jersey Learners Permit Practice Test and Prep Course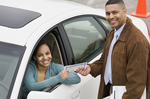 Thousands of sample questions
Modeled after official exam
Guaranteed results or your money back
Course Summary
Congratulations! You are on your way to earning your driving privileges. Having a driver's license can open up a world of possibilities and we're happy to help in any way that we can. But first, you've got to pass the written knowledge exam! Thankfully, we offer a New Jersey learners permit practice test that can prepare you for just such an occasion! We encourage you to enroll today.
details
Sign Up Now - Instant Access
How Our Guide Works
We have developed our online New Jersey learners permit practice test to be easy to use, convenient, and effective. To take advantage of this resource, simply complete the following steps:
Complete the online registration process
Log in to access the course materials
Take our practice test and answer 20 questions similar to those on the official exam
Learn which questions you answered incorrectly
Retake the test as many times as you like - no two are the same
Once you have taken our practice test and completed it without error, you can be confident that you possess the knowledge needed to pass the official exam. Our New Jersey learners permit practice test may be simple but it is also effective!
The Benefits of Our Practice Tests
We believe strongly in developing resources that meet our students' needs. After all, a resource can only be effective if it's actually used, and any resource that fails to take the student's needs into account is sure to sit unopened. For this reason, we have developed our New Jersey learners permit practice test with your needs in mind. It offers a number of benefits, including:
User-friendly
Intuitive interface
Convenient format
Comprehensive resource
Effective layout
Learning and retaining knowledge couldn't be easier with our practice test. Why waste time going through dozens and dozens of pages when you can take practice tests that cover the essentials?
Try Sample Test!
How to Earn Your NJ Learners Permit
Are you 16 years of age? If so, you can apply for a student learners permit in the State of New Jersey. To obtain your NJ permit, visit your local MVC agency and complete the following:
Pass the written knowledge test
Pass a vision screening
Provide proof of enrollment in a state-approved driver training course
Provide proof of identification
Provide proof of parental or guardian consent
Once you have completed the state-approved driver training course, you can return to the MVC agency to have your permit validated and schedule a road test appointment. You will then take a behind-the-wheel test in order to obtain your license. If you're worried about this process, don't be; our New Jersey learners permit practice test contains everything that you need to pass the exam!