Missouri Learners Permit Practice Test and Prep Course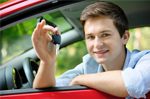 Study anytime you want, from anywhere
Each practice test is unique
Guaranteed results!
Course Summary
Earning your driving privileges is a huge milestone. At Test Questions and Answers, we are here to help you realize this goal. We have worked with industry experts to develop online resources that can help our students gain the insight and knowledge they need to be safe and responsible drivers. We are confident you will find them to be much better alternatives to more traditional resources. Enroll for our Missouri learners permit practice test today and see for yourself!
details
Sign Up Now - Instant Access
How Our Guide Works
We strive to make all of our resources user-friendly and convenient, as we believe the most effective study resource is the one that actually gets used. For this reason, you will find studying with our Missouri learners permit practice test to be incredibly easy. Simply complete the online registration process and you'll be granted immediate access to the course materials. The study process is simple and straight-forward:
Sign in to access our practice tests
Answer 20 random questions on road rules and signage
Learn which questions you answered incorrectly and correctly
Note the questions that you go wrong for future reference
Retake the practice test as many times as you like
With thousands of sample questions in our database, all of which are based on the official state exam, you're likely to never see the same test twice! And with each one, you'll be better equipped to pass on your first try!
The Benefits of Our Practice Tests
If you are accustomed to the official state driver handbook, we think that you'll find our Missouri learners permit practice test to be a revelation! It includes only the information that you need, is modeled after the official written exam, and can be completed entirely online. The benefits are many, to say the least! With our online practice test, you get a resource that is:
Convenient
Practical
Easy to use
Fun to use
Comprehensive
Effective
Our Missouri learners permit practice test is such an effective resource that we guarantee results. If you complete our practice test at least three times without error, we guarantee that you'll have the knowledge you need to pass the permit exam. If you don't, we'll refund your money!
Try Sample Test!
How to Earn Your MO Learners Permit
In the State of Missouri, minors are eligible to apply for an instruction permit at 15 years of age. This instruction permit is valid for one year or until the applicant obtains his or her graduated driver license. To obtain a Missouri instruction permit, applicants must:
Pass a vision screening exam
Complete and pass written knowledge tests on road rules and road sign recognition
Provide proof of parental or guardian consent