Mississippi Learners Permit Practice Test and Prep Course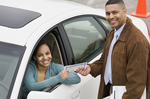 Gain insight on key concepts
Become better acquainted with test format
Avoid the risk of a first-time failure
Course Summary
We make passing your learners permit written test easy. Our online Mississippi learners permit practice test contains all of the information that you need to ensure your success. It covers the same topics, includes the same types of questions, and is modeled after the official exam - in a word, it's the perfect study guide. Enroll today and see for yourself!
details
Sign Up Now - Instant Access
How Our Guide Works
Working with industry experts, we have developed our Mississippi learners permit practice test and prep course to provide everything that you need - and nothing you don't. Unlike the official state handbook, which has dozens and dozens of pages (most of which you'll forget soon after reading), our practice tests focus on what matters most: the concepts you'll be tested on.
To take advantage of our Mississippi learners permit practice test, and guarantee your success on the official written exam, simply:
Enroll online today
Access our course materials
Take our practice test
Learn which answers are incorrect
Retake the test as many times as is necessary
The Benefits of Our Practice Tests
If you find the traditional study materials cumbersome and ineffective, you're in luck. Our Mississippi learners permit practice test is convenient, user-friendly, fun, and effective. It not only makes studying easy, but it will actually help ensure your success as well. The benefits are clear:
GUARANTEED Results - if you don't pass your test, we'll refund your money
Comprehensive Resource - learn everything that you need to know about road rules and signage
Easy to Use - study from the bus, your favorite coffee shop, at the library, or on your couch
Course Benefits for Parents
Our course uses proven teaching methods developed for training our military service members. Your son or daughter will not only pass, but they'll drive away with the thorough background they need to be a safe driver...and isn't that the most important thing?
When your son or daughter has successfully taken and passed the test at least five times we GUARANTEED they'll pass the official test at your local DMV office.
Course is approved by the National Safety Commission
All new drivers need to be familiar with the Mississippi Driver's Manual. Think you know the material?
Take our FREE DMV practice permit test now and test your driving knowledge.
Try Sample Test!
How to Earn Your MS Learners Permit
Minors living in the State of Mississippi can apply for a learner license at 15 years of age. Applicants must fulfill the following requirements before they can earn their driving privileges:
Proof of parental consent (both parents must sign except in cases of divorce or single parenthood)
Provide social security information
Provide proof of residency (domicile) and birth
Provide proof of current enrollment in school (form must be dated within last 30 days)
Once these criteria have been met, you will be tested on your knowledge of road rules and signage, as well as your skills behind the wheel.