Michigan Learners Permit Practice Test and Prep Course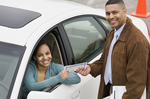 Practice test questions
Convenient online format
Guaranteed results
Course Summary
Are you currently in the process of earning your driving privileges? If so, we can help at Test Questions and Answers. Our online resources are convenient, affordable, and effective. In short, they are everything that you could want in a study guide! Take advantage today and we guarantee your success.
details
Sign Up Now - Instant Access
How Our Guide Works
Our Michigan learners permit practice test and prep course has been developed with the help of industry experts. We are confident that you will find it to be a great alternative to the standard state handbook. Here's how it works:
Enroll online to access the course materials
Take a practice test modeled after the official exam
Answer 20 random questions on road rules, signage, and safe driving techniques
Retake the test as often and as many times as you like
Each new test is different than the last!
When you have successfully taken and passed each test - both the road rules and road signs - at least five times, we guarantee you'll pass your driver's test the FIRST time at your local DMV driver's license office or we will provide you with a full refund for the cost of the course!
Among the many benefits of our Michigan learners permit practice test is its convenience. We understand that no matter how good a resource may be, if you don't pick it up to study with, it's useless. For that reason, we have made our online practice tests user-friendly and easily accessible. The benefits don't stop there though. Our practice tests are also:
Affordable
Comprehensive
Effective
If you study with our Michigan learners permit practice test and fail your written exam, we will refund your money, no questions asked!
Try Sample Test!
In the State of Michigan, minors can apply for a Level 1 graduated driver license at 14 years, 9 months of age. Before they can advance to a Level 2 learner license, they must complete at least 30 hours of behind-the-wheel training with a parent or guardian. Additionally, the applicant must complete a written exam and vision test, as well as 24 hours of classroom instruction.
The purpose of the Michigan's graduated driver license (GDL) program is to provide new drivers with the experience (practical and theoretical) that they need to become safe and responsible drivers. With each new license level, additional privileges will be earned; it is the state's intention to see that drivers are prepared and ready for these new driving privileges.