Indiana Learner's Permit Practice Test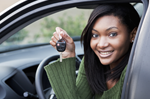 Participate at your own convenience
Earn your permit sooner rather than later
Retain imperative information to guarantee you pass
Course Summary
You're not nervous about taking your learner's permit test, are you? With our help, you have no reason to be! Our Indiana Learner's permit practice test will efficiently squash any doubts or fears you currently have about taking the DMV exam. Do yourself a favor and register for this prep course. Not only will you succeed at the DMV, but you'll have a blast participating in this program.
details
Sign Up Now - Instant Access
As you get ready to take your permit test, we don't want you to feel burdened or overwhelmed. Therefore, our prep course takes an easy approach to learning. You will be given 20 different questions with road rules and road signs themes. We've even made sure that these questions are quite close to those asked on the real DMV exam.
You're invited to take the course as often as needed
You can view correct answers and explanations to each question
You'll be able to take the real test with a sense of ease and calm
We don't want you to waste your time or money; therefore, our Indiana learner's permit practice test comes fully guaranteed. If you don't receive your permit on your first attempt, after successfully taking our road rules and road signs tests at least five times each, we'll happily return your money you spent on our program.
Our prep course differs from other programs. We don't want you to dread this learning process; we want you to feel excited about becoming familiar with safe driving techniques. You will quickly see that our site uses a variety of incentives to ensure you're not bored during this experience.
Our course material is stimulating
The program is user-friendly
We offer our assistance at an inexpensive price
We ask that all applicants somewhat know the information provided in the Indiana Driver's Manual. Do you think you're ready? Why not test your current driver knowledge right now with our DMV practice test?
Try Sample Test!
Are you 16 years old? In the State of Indiana, you must wait until your 16th birthday to apply for a learner's permit. However, if you're 15 years and 6 months old and currently enrolled in an approved driver education course, you'll be permitted to get your permit early. You will have to complete 50 hours of approved driving. You will also have to pass a written exam, as well as a vision test.
Areas you will be expected to be efficient in include: traffic signs, motor vehicle laws, and safe driving techniques. You don't want to risk failing the written exam, as you'll have to wait a day to retake it. Use our practice permit test to measure your current driving knowledge. You've got nothing to lose!