Illinois Learner's Permit Practice Test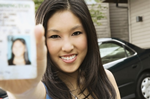 Only go to the DMV one time
An easy to navigate course
Proven to be effective and resourceful
Course Summary
No one enjoys going to the DMV. Therefore, we encourage you to participate in our Illinois learner's permit practice test to ensure you pass the exam on your first try and avoid going back to the DMV. You want to get your learner's permit as soon as it's legally possibly, right? Our prep course can have you driving in no time, so give it a try today!
details
Sign Up Now - Instant Access
Are you curious to see how this course works? Our program is so entertaining that you won't even feel as if you're learning. After you've enrolled, you will be exposed to 20 questions that encompass road rules and road signs topics. After each question, you will be given the correct answer, followed by a detailed explanation.
New questions will form after each time you sign in
Take the course as much as you want
It's as if you're taking the real DMV exam
You'll definitely be interested in learning that our Illinois learner's permit practice test is guaranteed. Therefore, after you've passed our road rules and road signs tests at least five times each, you are guaranteed to pass the real DMV exam on your first try. If you don't, you'll receive a complete refund for the price of the course.
We want you to become a safe and dependable driver, but it's also important to enjoy this learning process. Therefore, you will notice that our prep course is stuffed with great benefits to enhance your time spent with us.
No commuting involved - work from home
Feel safe every time you get into the driver's seat
Don't waste time with boring handbooks or study guides
Are you currently familiar with the Illinois Driver's Manual? Before taking our course, it's important to have some knowledge on this document. We invite you to assess your skills now and take our DMV practice test.
Try Sample Test!
In the State of Illinois, you won't be able to obtain your learner's permit until you are 15 years old, with your parent or guardian's consent. You will have to be enrolled in an approved driver education course and hold this permit for a total of 9 months. When going to the DMV, it's import to have the following documents: proof of Illinois residency, proof of age and identity, proof of enrollment in driver education course, affidavit/consent for minor to drive, and payment for application fee.
You will be quizzed on traffic signs, motor vehicles laws, and safe driving techniques. Are you skilled in these areas? Take our permit practice test now to confirm that you receive your permit on your first attempt.