Idaho Learner's Permit Practice Test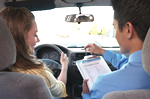 Easy and fun online prep course
Gain the confidence to succeed
Prove that you're a reliable driver
Course Summary
If you've been looking for a simple and convenient way to prepare for your learner's permit exam, you've found it! Our Idaho learner's permit practice test will guarantee you're sitting behind the wheel in no time! Don't be nervous about going to the DMV - enroll in our prep course and show everyone that you have the skills and knowledge to be on the road.
details
Sign Up Now - Instant Access
We've developed a new way to learn! Once you've registered and logged in, you will instantly be given 20 questions that center on road rules and road signs. These questions will change after each time you sign in, so feel free to prepare with this test as much as you'd like.
Questions are similar to the ones on the real exam
You will also be given the right answers to the questions
Participate in the course at your own convenience
The best part about our Idaho learner's permit practice test is that it's completely guaranteed. If you don't pass the DMV exam on your first attempt, after successfully completing our road rules and road signs test at least five times each, the money you spent on our course will be returned to you.
We don't want you to struggle or be frustrated at the DMV. Preparing for your learner's permit also shouldn't be a hassle. With our prep course, you will quickly be exposed to the information needed to power through the real DMV exam.
One low cost - no hidden fees
Prepare from your favorite location
The course is easy to access
It's important for all applicants to be familiar with the Idaho Driver's Manual. Do you think your skills are up to par? With our DMV practice test, you can measure your knowledge today.
Try Sample Test!
Are you ready to get your learner's permit in the State of Idaho? Legally, you can't obtain this permit until your 15th birthday. There are several documents you will have to take to the DMV to be able to obtain this permit, including: proof of Idaho residency, proof of age and identity, liability signer, driver training completion, and payment for the application fee.
Before you can secure your permit, you'll have to successfully pass an assessment that covers traffic signs, motor vehicle laws, and safe driving techniques. Don't risk failing the exam - take our Idaho permit practice test. You won't regret preparing with us.