California Learners Permit Practice Test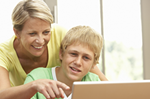 Bring the required ID and Paperwork
Hot to Prepare for the Written Exam
California Learner's Permit Guidelines
Course Summary
To gain the knowledge and insight needed to pass your DMV written test, we encourage you to take advantage of our California learners permit course. Consisting of a practice test modeled after the official exam, this comprehensive course will detail the necessary steps to obtaining your learners permit, as well as how to move on to receiving your full license in the State of California. With our California learners permit practice test by your side, your success is guaranteed!
details
Sign Up Now - Instant Access
Here is how the permit practice test works:
Prepare for your driving permit exam with our California learners permit practice test course! We will provide you with 1,500 questions and answers similar to how they are seen on the DMV test, including detailed explanations.
When you log in, you will be given a test consisting of 20 road rules and road sign questions selected from the database. You have the tremendous ability take the test as many times as you like, the questions change each time you log in. Correct answers are provided at the end of each question.
The smart way to pass your driver's license exam!
Course Benefits for First Time Drivers
You will receive the best preparation available to pass your driving permit test and become a safe driver when you complete our course.
Fun, easy, and interactive coursework
Quickly learn the Rules of the Road and Road Signs
Course Benefits for Parents
This course uses proven teaching methods that will allow your teen to not only pass the course, but to become a safe driver as well.
When your son or daughter has successfully taken and passed the test at least five times, we can guarantee that he or she will pass the test at the local DMV office.
Course is approved by the National Safety Commission
Take the California practice permit test now and test your driving knowledge!
Try Sample Test!
Stage one - Learner's License
Once you have held your permit for six months, as well as completed 6 hours of professional driver training, you are then eligible to take your road test when you turn 16 years old. This license is good for 60 days, in which the licensee should receive your new photo license, your provisional driver's license. Nighttime driving restrictions apply for the hours between 11pm and 5am. For the first year, the licensee is not allowed to drive with passengers, unless they are supervised by a licensed CA driver over 25 years old.
Enroll in our comprehensive course today!
If you are looking to obtain your California learners permit, then our course is just right for you. We will walk you through each step necessary to reach your licensing goals!