How to get a California Learners Permit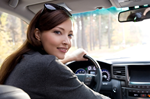 California Learner's Permit Guidelines
How to Prepare for the Written Exam
Required ID and Paperwork
CA Learners Permit Rules and Requirements
Find out the steps to get your CA driving permit, pass your DMV written test and the required paperwork to bring to the DMV office to get your driver's license
Try Sample Test!
All applicants need to be familiar with the California Driver's Manual. Think you know the material? Take our DMV practice test now and test your driving knowledge.
First Time Drivers
In California, all new drivers are eligible for a provisional permit at the age of 15 and 6 months. The provisional permit is considered Stage 1 of the California GDL program and requires a minimum of 50 hours of supervised behind-the-wheel practice, 10 of which must be nighttime supervised driving. During this phase you must be accompanied by a validly CA licensed adult age 25 years or older.
Prepare for the Written Test
During this stage, new drivers are required to take a written Road Rules and Road Signs knowledge test which contains questions on California traffic laws, road signs and rules of safe driving. If you fail the exam, some states require you to wait until at least the next day to take the test again and charge a re-examination fee.
All new drivers are encouraged to study for this driver education exam so you don't miss the opportunity to get your learners permit as soon as you reach the approved age. Online practice tests are available that provide real sample questions from the DMV Exam - Take the California practice permit test now and test your driving knowledge.
Required Paperwork for your Provisional Learner's Permit
Before you head to the California DMV Office, make sure you have all of the following required documents to get your provisional permit:
Signature of parent or guardian on the application form DL 44
Provide your social security number
Proof of birth date and legal presence
Personal identification
Proof of enrollment in driver education and/or driver training classes
Payment for application fee
On the Road
After you have held your provisional permit for six months, completed 6 hours of professional driver training and driver education you are eligible to take your road test when you turn 16 years of age to receive your interim driver's license. The interim driver's license is good for 60 days, a period in which the licensee should receive their new photo license, the provisional driver's license. The nighttime driving restriction applies for the hours between 1 1 PM and 5 AM. For the first 12 months, the licensee is not allowed to drive with passengers, unless supervised by a validly CA licensed adult age 25 years or older.
California Driving Permit Resources