North Dakota Motorcycle Practice Test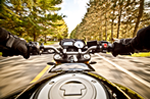 Course is inexpensive to purchase
Available to participate in 24/7
Gain the confidence you need to succeed
details
Sign Up Now - Instant Access
Course Summary
We've got a special treat for you - an online prep course that will allow you to achieve success at the DMV on your very first visit. If you want to obtain a motorcycle license, then you really can't afford to skip over our North Dakota motorcycle practice test. Register today and we'll make sure you have the skills and knowledge you need in order to earn your place on the road.
Access Time: 30-Days
You won't be able to find another course that is quite like ours. Our program is completely available online and will cater to your schedule. There are over 600 questions to prepare with, meaning you will get a full, inside look as to what to expect on the real DMV exam.
Accurate answers and explanations always available
Use a computer, tablet, iPad, or smart phone to access materials
Become familiar with road rules and laws, traffic signs, and safety measures
There are no downsides to participating in our North Dakota motorcycle practice test. We want to make sure you achieve greatness as a driver. We will clear all of the doubt from your mind, but you've got to enroll and give us a chance. You'll be glad you did!
There are plenty of reasons as to why you should participate in our prep course. This won't be your typical stiff and boring learning experience. For starters, you won't have to commute to a center or use the typical study guides to get prepared for the DMV exam. You can work from home and use a number of tools to navigate the site.
An interactive course that is simple and fun
Our teaching methods have been proven to work
Enroll now and gain immediate access to the course
Our course is also completely guaranteed - or your money back. When you take and pass our practice program at least five times, we guarantee you'll pass the written portion of the DMV exam on your first try. If you don't happen to do so, then you'll receive a refund for the money you spent on the course.
In order to receive a motorcycle license in the State of North Dakota, you will have to be at least 14 years old and be a North Dakota resident. However, if you're 14 or 15, then you will be limited to a motorcycle with 250cc engines or less. To gain a full license, you will also have to carry a regular driver's license. You'll have to pass an eye exam and a written test. A road test or skills test will come later. If you're 18 or younger, you will be required to wear a helmet.
It is very important for all applicants to be familiar with the North Dakota Motorcycle Driver's Manual. Do you think you have what it takes to pass the exam? We encourage you to take our practice test to measure your skills and knowledge. Take control of your driving future and register for our course.
Try Sample Test!
North Dakota Motorcycle Resources