North Carolina Motorcycle Practice Test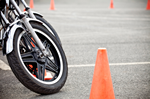 Get rid of boring handbooks and study guides
Quickly become familiar with traffic signs and road rules
Avoid the chance of failing - pass today
details
Sign Up Now - Instant Access
Course Summary
Are you trying to obtain a motorcycle license? You've come to the right place - our North Carolina motorcycle practice test is for you! Completely affordable and easy to access, you won't find a more reliable way to prepare for the written portion of the DMV exam. Don't start tomorrow, next week, or next month; begin now and get the learning process done and over with.
Access Time: 30-Days
Before you decide to veto this great opportunity, you should read more about the program and what we have to offer. For example, when you enroll, you will be exposed to over 600 questions that are very similar to the ones given on the real DMV exam. How cool is that? Come test day, you'll know what to expect and won't feel overwhelmed.
Detailed explanations given with each answer
Questions all in multiple choice form
An unlimited amount of opportunities to study
The written portion of the DMV exam is known for being hard and confusing. Therefore, you need to be fully prepared before taking the real assessment. Our North Carolina motorcycle practice test is backed by proven results; therefore, you have no reason to be apprehensive about enrolling.
To sweeten the deal, we've decided to present to you several reasons as to why you should join our course. Yes, this is a class that should be taken seriously, but you should also be allowed to have fun and enjoy the experience.
Material that is stimulating and easy to retain
A stress-free way to learn and get prepared
No teachers - you're the boss
Would you feel more comfortable about taking the course if it was guaranteed to work? You'll be happy to know that our prep course is completely guaranteed. After you take and pass our program at least five times, we guarantee you'll pass the written portion of the DMV exam on your first attempt. Otherwise, you'll be given a full refund for the price of the class.
Whether you have a full provisional driver's license, a regular license, or a commercial driver's license, you are eligible to apply for a motorcycle endorsement. If you are younger than 18 (but at least 16 years old), then you will need the signature of a parent or guardian. You will be ordered to take and pass a written motorcycle knowledge test, a vision test, a signs test, and a driving skills test.
Are you ready to get to work? Before you enroll in our practice course, it's imperative to be familiar with the North Carolina Motorcycle Driver's Manual. If you're ready to test your skills, then take our practice test today. It's our goal to make sure you succeed.
Try Sample Test!
North Carolina Motorcycle Resources