New Hampshire Motorcycle Practice Test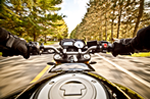 Our course is proven to work
Throw out those boring study guides
Unlimited amount of chances to prepare
details
Sign Up Now - Instant Access
Course Summary
You want your motorcycle license, right? We can help you accomplish this goal the very first time you go to the DMV. After you enroll in and pass our New Hampshire motorcycle practice test, you'll be ready to cruise down the road and feel the wind in your hair. There's so much about the exam you will need to learn in order to succeed; let us assist you! When you decide to work with us, you'll have no regrets.
Access Time: 30-Days
When you take our course, it will be as if you're gaining an inside look into the real DMV exam. The questions provided in our prep program are almost identical to the ones seen on the actual assessment. In a short period of time, you'll have no worries about taking and passing the test.
Over 600 questions available to study with
Correct answers and detailed explanations will be given
Learn road rules and laws that will be displayed on the exam
Do yourself a favor and enroll in our New Hampshire motorcycle practice test. Our program will allow you to take a new and fun approach to studying for the DMV exam. Sounds like a good deal, right? Take advantage of it now!
You deserve to participate in a prep course that is loaded with benefits. Therefore, we've made sure our program offers plenty of incentives to those drivers who choose our class. You'll retain more information if you're having fun and you'll definitely have fun working with us!
Our course is available 24/7
The program is simple and interactive
You're guaranteed to be a success at the DMV
Yes, our prep course is completely guaranteed. It's as easy as this: After you take and pass our program at least five times, we guarantee you'll pass the DMV written exam on your first try. If you don't, you will then receive a full refund for the price of the course.
In the State of New Hampshire, if you're between the ages of 16 and 18, you will have to successfully complete an approved driver education course. You will also have to possess a valid New Hampshire driver's license. If you're applying for a motorcycle license you will have to pass a knowledge test, a signs test, and a vision screening. During the skills test, you will have to demonstrate your competency in motorcycle operation.
Before enrolling in our course, it's vital to be familiar with the New Hampshire Motorcycle Driver's Manual. Are you ready to put your skills to the test? Take our permit practice course today and prove that you belong on a motorcycle!
Try Sample Test!
New Hampshire Motorcycle Resources