Montana Motorcycle Practice Test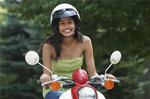 Use a computer, smart phone, iPad, or tablet
Have fun while learning important facts
You can move at your very own pace
details
Sign Up Now - Instant Access
Course Summary
If you're planning on obtaining your motorcycle license, then it's very important to prepare for the written test. When you enroll in our Montana motorcycle practice test, not only will you gain the skills and knowledge you need to succeed, but you'll also feel safe and confident every time you set out on the road. Why risk failing the DMV exam, when we can guarantee you'll pass? You can start as soon as today!
Access Time: 30-Days
We've developed a course that you will actually enjoy taking part in. This isn't a program that you will have to suffer through; you will look forward to learning and working with us. We even offer you the ability to see over 600 questions that are rather similar to those asked on the real DMV exam.
You will see correct answers and detailed explanations
Quickly become familiar with road rules and laws
Feel free to take the practice exam as many times as needed
Our Montana motorcycle practice test will get you ready for the real DMV exam in a way no other program can. Don't risk failing the test and leaving the DMV disappointed. Get prepared today!
As stated, we want you to have a good time when you participate in our program. Therefore, we made sure our course offers several benefits for joining. After all, who says you can't have a good time when learning new and important information?
You can work morning, noon, or night
The material is stimulating and will keep your attention
The course is very easy to use and navigate
We know you'll like this next part: Our prep course is completely guaranteed - or your money back! After successfully taking our practice test at least five times, we guarantee you'll pass the DMV written exam on your first try. If you don't, we will have no problem issuing you a refund for the price of the course.
Before you can obtain a motorcycle license in the State of Montana, there are a few things that you must first accomplish. You will have to be 15 years old and have proof that you've successfully completed a driver's education course. If you haven't take a course, you will have to wait until you're 16 to get the license. You will also have to provide a letter of parental consent, proof of identity, and proof that you're a United States citizen. The motorcycle examination is very extensive and combines the following elements: driving record review, physical aptitude review, and vision, written, and skills tests.
We do ask that all applicants be somewhat familiar with the Montana Driver's Manual. If you're ready to measure your skills, then take our practice test today! You've got nothing to lose!
Try Sample Test!
Montana Motorcycle Resources