Maryland Motorcycle Practice Test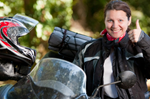 Offered on a money-back guarantee
Available with unlimited test retakes
Know the answers prior to taking the DMV exam
details
Sign Up Now - Instant Access
Course Summary
When you enroll in our Maryland motorcycle practice test, you eliminate the need to study the handbooks, as well as avoid the 50 percent failure rate. Since this course is 100 percent guaranteed, we promise that you will be satisfied with the results!
Access Time: 30-Days
Prepare for the Motorcycle License written test online!
Our Maryland motorcycle practice test is modeled after the official exam, and can help familiarize you with its core elements. With this practice test, you will be able to get a better understanding of the official exam's layout, as well as what types of questions you can expect to answer. Don't risk failing your motorcycle test; study with our resource and prepare in advance.
Each of our practice tests consists of 20 random questions on road rules, safe riding techniques, and road signage identification. If you get any of these questions wrong, you'll be presented with a detailed explanation of what the correct answer is. Put simply, our Maryland motorcycle practice test allows you to take the exam before ever setting foot in the motor vehicle office. What more could you ask for?
This is the right way to pass your Maryland motorcycle license exam!
Enrolling in this course offers you the best preparation around to obtain your motorcycle license. It utilizes proven teaching methods developed for training our military service members and is modeled after the official exam so that you can become familiar with its layout, concepts, and questions. Studying with our practice test is your best bet!
We believe that our Maryland motorcycle practice test is such an effective resource that we guarantee results. If you take our practice test and pass it at least five times, you will pass the motorcycle test the FIRST time or your money back!
Maryland Motorcycle License Endorsement
Under Maryland MVA guidelines, you must have a Class M motorcycle license to operate a motorcycle. If you are under 18 years of age, or have not satisfactorily completed an approved driver education course of not less than 30 hours of classroom instruction, then you must complete the provisions outlined under the Graduated Licensing System.
An individual who satisfactorily completes the Basic Rider Course (BRC), or the Alternate Basic Rider Course (BRC II) will receive a Motorcycle Safety Program Completion Certificate. These courses last anywhere from two to six weeks and include classroom instructions as well as driver training in a controlled, off-street environment.
Enroll in our comprehensive course today!
When you decide to enroll in our Maryland motorcycle practice test course, you are making a very wise decision. So go ahead, enroll today - we guarantee that you will be happy with the result!
Try Sample Test!
Maryland Motorcycle Resources