Colorado Motorcycle Practice Test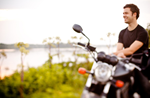 Become a success on the road
Course is interactive and fun to use
You can start as soon as today
details
Sign Up Now - Instant Access
Course Summary
Don't walk into the DMV unprepared. You don't want to take the written portion of your DMV exam more than once, do you? Our Colorado motorcycle practice test will ensure you're out on the open road sooner rather than later. Your time and money will be well spent with our program. Give us a try today - you won't regret it!
Access Time: 30-Days
The last thing you want to do is partake in some boring course that tests you on information you won't even remember. Sure, our course is enjoyable and easy, but it's also filled with stimulating information you will have no problem retaining. You will be able to view over 600 questions, as well as the correct answers to these questions and detailed explanations.
Course has proven results - you won't fail
Navigating our site is quite simple
The ability to prepare as much as you want
Why wouldn't you enroll in our Colorado motorcycle practice test? You want to get your motorcycle license as soon as you're legally able to, right? We will help you accomplish this goal. Start today and get to work!
We want you to choose our course, which is why we've stacked it with great incentives. After all, don't you think you'll be more inclined to learn and remember vital motorcycle facts if you're thoroughly enjoying the program you're using? We've designed a learning process that you won't have to suffer through - you'll be eager to participate!
We'll teach you road laws and traffic signs without a handbook
All of our questions are in multiple choice form
100 percent guaranteed - or your money back
Yes, you've read that correctly: Our course is completely guaranteed. You will definitely pass the written DMV exam on your first try, after you've successfully completed our practice test at least five times. If you don't happen to do so well, we will gladly give you back the money you spent on our course.
In the State of Colorado, you must be at least 16 years old before you can obtain a motorcycle license. If you're under 18, then you will have to hold a motorcycle instruction permit for 12 months. You will have to pass the written exam, vision test, and the on-cycle driving test. If you don't already have a Colorado driver's license, you will also have to pass the basic written test requirements and show proof of identity.
No one likes going to the DMV, so take our practice course to ensure you only make the trip one time. If you're currently familiar with the Colorado Motorcycle Driver's Manual, then you're ready to start preparing for the DMV exam. Don't make this experience harder than what it needs to be - we'll make sure you pass with flying colors!
Colorado Motorcycle Resources