How to get a Colorado Motorcycle License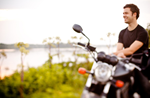 Colorado Motorcycle License Guidelines
How to Prepare for the Written Exam
Required ID and Paperwork
Colorado DMV Motorcycle License Rules
Ready to take your motorcycle on the open road? We'll walk you through the steps to get your Colorado motorcycle license with an extra emphasis on safe driving.
You'll need to be familiar with the Colorado Driver's Manual. Think you know the material?
Take our Motorcycle License practice test now and test your knowledge here first!
First Time Motorcycle Riders
Under Colorado DMV guidelines, anyone who drives a motorcycle must have a Class M motorcycle license or motorcycle instruction permit.
Applicants must be 16 years of age, pass the written test at a Driver's License office, purchase a motorcycle instruction permit, pass a drive test at a Driver's License office or with a 3rd-party tester and pay the fee to add the endorsement to your license.
Like most states, Colorado will waive your skills test and issue you a license if you complete an approved basic motorcycle rider safety course. These courses last anywhere from two to six weeks and include classroom instruction as well as driver training in a controlled, off-street environment. When you successfully complete this course, you will be eligible for your motorcycle driver's license without having to take your state's road test.
Enroll in a Motorcycle Safety Foundation (MSF) Training course and, after successful completion of the course, present your MSF certification card at a Driver's License office. When you present your MSF certification card at a Driver's License office, the written and drive tests are waived. Pay the fee to add the endorsement to your license.
Note: per Colorado law, minors under 18 are required to purchase and hold a motorcycle instruction permit for 12 months before adding the motorcycle endorsement to their license. Minors under 16 must be under the direct supervision of the MSF motorcycle instructor at all times while driving a motorcycle.
Prepare for the Motorcycle License Written Test
The Colorado DMV requires that all applicants must pass a written exam on traffic signs, motor vehicle laws and safe driving techniques. If you fail the exam, some states require you to wait until at least until the next day to take the test again and charge a re-examination fee.
All motorcyclists are encouraged to study for this written test so you don't take a chance on standing in line at the DMV Office only to go home empty-handed. Test your motorcycle safety and driving knowledge and take our Colorado motorcycle practice test today!
Required Paperwork
Before you head to the Colorado DMV Office, make sure you have the following required documents to get your motorcycle license. Examples include:
Birth certificate issued in any state
Drivers license or instruction permit issued in another state
U.S. passport
U.S. military ID card (active duty, retired, reserve)
Colorado ID card
Social Security Number, if issued,
Documents from a court of record
Marriage certificate
Parental Consent Form, which must be signed in the presence of a driver license examiner or notarized if parent or guardian will not be present.
On the Road
Once your licensing requirements have been met, a Class M endorsement will be added to your driver's license. Remember... the safe operation of a motorcycle requires practiced skill, knowledge, and a respectful understanding of the limitations imposed by the operator, the machine, and the environment.
Colorado Motorcycle License Resources