California Motorcycle Practice Test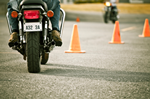 Learn answers to DMV questions
Prepare at all hours - morning, noon, or night
Avoid the 50 percent failure rate
details
Sign Up Now - Instant Access
Course Summary
Before you take the written portion of your motorcycle exam, it's imperative to become educated on various safety skills and road knowledge. When you participate in our California motorcycle practice test, you will gain a high level of confidence to pass the DMV exam. Our program will help you prove you're a confident and dependable driver.
Access Time: 30-Days
Because our prep course is completely available online, you're given the power to access our site from any location that offers Internet access. It doesn't get better than that, right? As soon as you enroll, you'll quickly gain access to over 600 questions that are rather similar to ones asked on the real exam.
Each question comes with a correct answer and detailed explanation
There are no deadlines or time limits - take your time or speed through
Successfully eliminate the fear of failure from your mind
You've got nothing to lose by taking our California motorcycle practice test, but everything to gain! You won't find a better way to prepare for the DMV exam. We've combined fun and convenience to create a resourceful program, so use it today!
We've made learning fun! The days of sitting in a stiff classroom or reading a boring handbook are long gone! When you take this course, it will be as if you're taking the real DMV exam; therefore, you will know exactly what to expect come test day. Practice makes perfect, so get started today!
You are your own teacher - you make the rules
You'll be able to navigate our course swiftly and easily
As soon as you register, you can get started and begin learning
Wouldn't it be great if our course was completely guaranteed? Guess what: It is! After you've successfully taken and passed our prep course at least five times, we'll guarantee you pass the DMV written exam on your first try; otherwise, you will be issued a full refund for the price of the course.
Before you try to obtain a motorcycle license in the State of California, there are a few things you should know. If you are under 18, you will have to: be at least 16 years old, have held your permit for 6 months, provide proof of driver education/training completion, and provide a completion certificate from the training course. If you are 18 or older, you will also have to pass a vision exam, pass a written test, and give a thumb print.
Do you want to start learning? We do ask that all applicants have some knowledge on the California Motorcycle Driver's Manual. Don't delay getting your license any longer! Take our practice test today and get ready to drive.
California Motorcycle Resources